TOP NEWS: Russia continues to shell Ukrainian cities, killing civilians. Dozens of people were killed and injured in Mykolaiv by forbidden cluster munitions. In Rubizhne, Russia's forces hit a cistern with nitric acid. Tortured by Russia's forces civilians continue to be found. Journalists from the New York Times proved that civilians were killed when Bucha was under Russia's control. Europe expels dozens of Russian diplomats after the Bucha massacre. Top European officials will visit Ukraine.
VIDEO OF THE DAY: Journalist showed bombed Mariupol, includinf the Drama Theater, where several hundred people have been killed
PHOTO OF THE DAY: A boy in Bucha near the grave of his mother, who died while the city was under occupation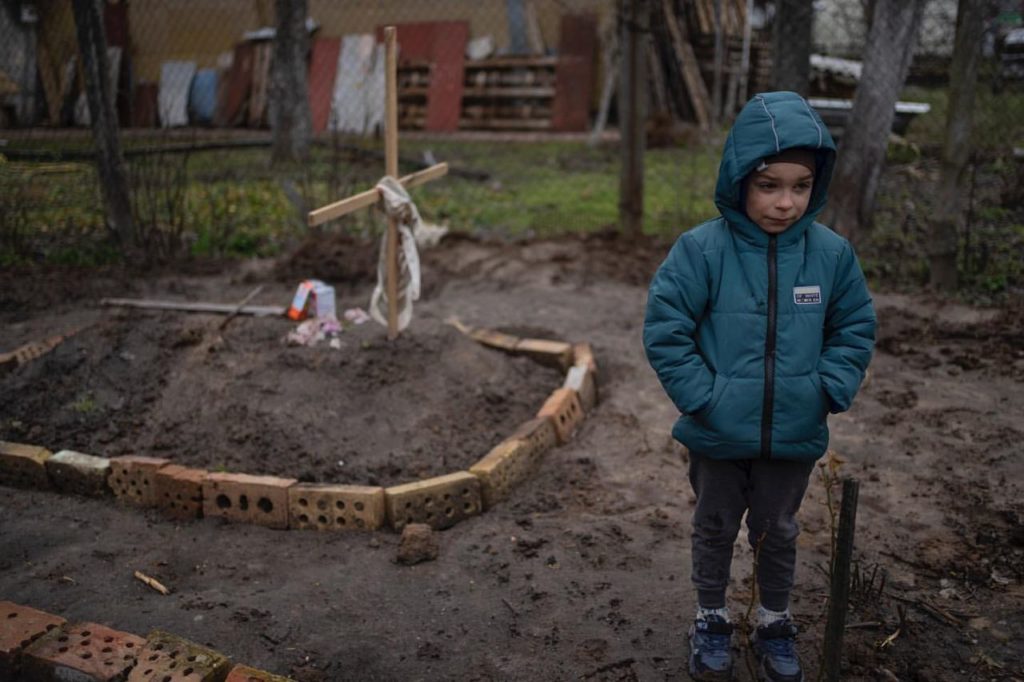 A woman died in Bucha from starvation and stress due to the Russian invasion of Ukraine. She was buried in the yard near her house.
MAIN NEWS
10 people were killed in Mykolaiv with forbidden munitions
Russia's forces shelled residential buildings, hospitals, kindergartens and schools in Mykolaiv with forbidden cluster munitions. As a result of the attack, 10 people were killed and 46 people were injured.
Russia's attack at Dnipropetrovsk Oblast and street fights in Popasna and Rubizhne
Ukrainian defenders shot down two Russia's missiles over the town of Synelnykiv in the Dnipropetrovsk Oblast. Russia also launched air strikes on Kramatorsk railway. In Popasna and Rubizhne street fights continue.
In Rubizhne, Russia's forces hit a cistern with nitric acid
Russian forces hit a cistern with nitric acid near Rubizhne with artillery.
Tortured people were found in Bucha, where Russia's forces had lived for almost a month
The bodies of five tortured people were found in the basement of a children's camp after the Russian forces withdrew from Bucha. This camp was used by Russia's forces as a base.
Russia's forces have been killing Bucha's residents – The New York Times
The New York Times analyzed satellite images from Bucha, which prove that Russia's forces have been killing during a month of occupation.
Landmines in Ukraine put it among world's most dangerous areas for civilians
According to UN estimates, 80,000 km of Ukraine will need to be demined. This is equal approximately to the area of ​​three Ukrainian oblasts.
In the Dnipropetrovsk region a woman was killed when she picked up an explosive. In the Chernihiv region, a family blew up an anti-tank mine left by the Russians.
Russian Forces continue to deport Ukrainians to Russia
In Izium, the Kharkiv Oblast, Ukrainians are forced to go to Belgorod in Russia.
Russia prepare one more false flag operation
Russia's forces plan to accuse Ukraine of killing civilians. They collect the bodies of civilians killed by Russian shelling and demonstrate them as victims of the Ukrainian Army.
Russia's force committed atrocities in Bucha to send back to Ukraine
Those units of Russia's forces committed war crimes in Bucha to be sent to the Ukrainian Kharkiv region.
Heads of the European Commission and the European diplomacy as well as the chancellor of Austria to visir Kyiv
European Commission President Ursula von der Leyen and EU High Representative Josep Borrell will visit Kyiv this week. Austrian Chancellor Karl Negammer also confirmed his visit to Ukraine.
The EU has prepared a fifth package of sanctions against Russia
The fifth package of EU sanctions against Russia was prepared in response to the atrocities in Bucha. It may be adopted in the coming days. It includes, among other things, a ban on imports of Russian coal, a ban on exports of semiconductors, machinery and transport equipment to Russia and so on.
Europe expels dozens of Russian diplomats after Bucha massacre
Over the past two days, European countries have announced the expulsion of dozens of Russian diplomats. There are Denmark, France, Italy, Spain, Sweden, Romania and Portugal among those countries.