TOP NEWS: World leaders are shocked by Russia's atrocities in Ukrainian cities. The President of Ukraine visited the liberated Bucha. Russia's Forces continue to shell Ukrainian cities, killing civilians. Missiles and artillery hit Odesa and Kharkiv. Mykolaiv was attacked with the forbidden cluster munitions. Russian Forces have already killed 18 journalists during the war.
PHOTO OF THE DAY: A wedding in Kharkiv, which is constantly shelled by Russian Forces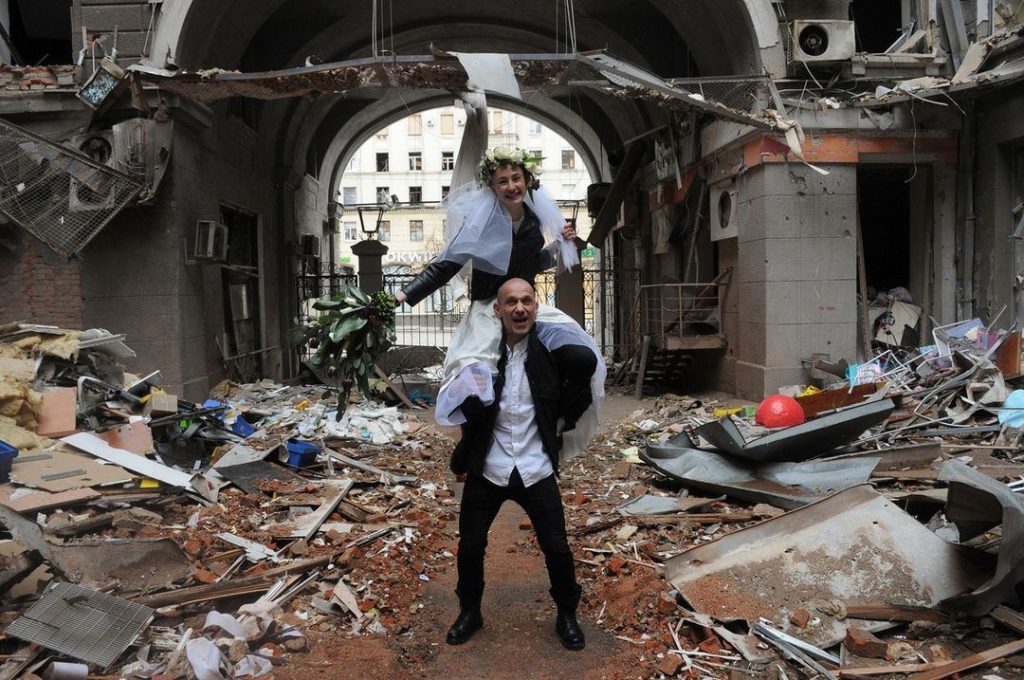 MAIN NEWS
World leaders condemn atrocities alleged in Bucha
World leaders condemned the killing and torturing of civilians in a suburb of the Ukrainian capital, calling for new sanctions and investigations of alleged war crimes as outrage grew. NATO Secretary General Jens Stoltenberg, German Chancellor Olaf Scholz and European Commission President Ursula von der Leyen reacted to the atrocities.
Volodymyr Zelenskyy visited the liberated Bucha and Irpin
The President of Ukraine Volodymyr Zelenskyy visited the cities of Bucha and Irpin, which had been under Russia's control for a month. According to Zelenskyy, Russia commited war crimes and genocide in these Ukrainian cities.
Kremlin propagandists spread fakes about the Bucha massacre
Russia spreads misinformation about the Bucha massacre, claiming that the horrific scenes of the city after Russia's occupation are fakes.
UN Security Council meeting again Thursday to debate Ukraine
The UN Security Council will meet Thursday at the request of six Western nations that sought an open session on Ukraine. Russia has also called a special meeting of The UN Security Council on Ukraine. But Great Britain, which currently chairs the council, rejected such a meeting.
Russia has already committed 74 crimes against journalists in Ukraine
Since Russia's invasion of Ukraine, its forces have killed 18 journalists and abducted eight more. Three journalists went missing. 13 journalists were injured.
Russia's attack on Kharkiv. Citizens were killed
Russian Forces shelled residential areas of Kharkiv. As a result of Russia's shelling, several civilians were killed and injured.
Russia shelled Mykolaiv with the forbidden cluster munitions
Russia shelled Mykolaiv with the forbidden cluster munitions. That was reported by city's mayor Olexander Senkevych.
Russia has targeted Odesa again
Russia's Forces shelled Odesa with missiles. One of the missiles damaged a non-residential building. No one was injured in the attack.
Russian Forces continue to deport Ukrainians to Russia
In Izium, the Kharkiv Oblast, Ukrainians are forced to go to Russia.
Ukrainian defenders liberated three villages in the Chernihiv Oblast
Ukrainian defenders regained control over the villages of Kolychivka, Yahidne and Ivanivka in the Chernihiv Oblast. Ukrainian Armed Forces destroyed some Russia's military equipment south of Chernihiv.
Russia's Forces tried to make a night break through the town of ​​Rubizhne
In the Luhansk Oblast, Russian Forces tried to break through Ukrainian positions in the town of Rubizhne. But the attack was unsuccessful.
Lithuania expels Russian ambassador
Lithuania downgraded its diplomatic ties with Russia and ordered the ambassador to leave the country. Lithuania took this step in response to Russia's military aggression against sovereign Ukraine and the atrocities committed by the Russian armed forces in various occupied Ukrainian cities.