Navigation and useful materials
Russian propaganda took advantage of the war that started in the Gaza Strip and launched a new discrediting campaign against Ukraine "Ukrainian weapons in the hands of HAMAS." The propaganda campaign aims to discredit Ukraine and reduce military assistance from Western allies. The Centre for Strategic Communication and Information Security has gathered narratives of Russian propaganda about Western weapons for Ukraine in the context of the war between HAMAS and Israel.
Since October 7, Russian propaganda Telegram channels and media resources have been full of headlines and publications about the "use of Ukrainian weapons by HAMAS." The formats for alleged "confirmation" are different: from statements by Russian officials and so-called representatives of the occupation administrations to dubious videos and photos.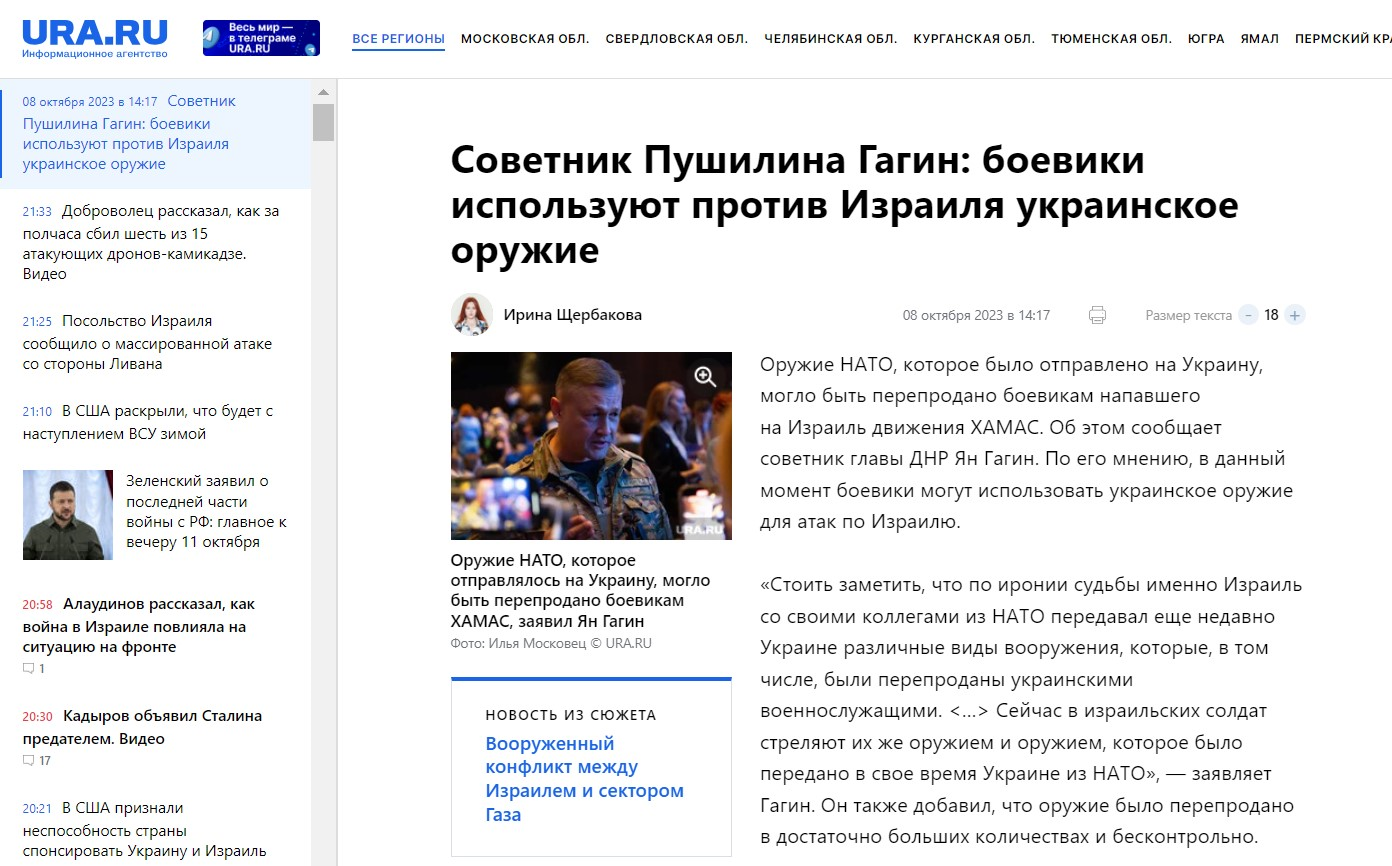 For example, a video with allegedly Ukrainian weapons appeared on the propaganda Telegram channel Reporter Rudenko V on October 8. However, the video itself quite manipulatively presents a set of weapons without any confirmation that it is Ukrainian.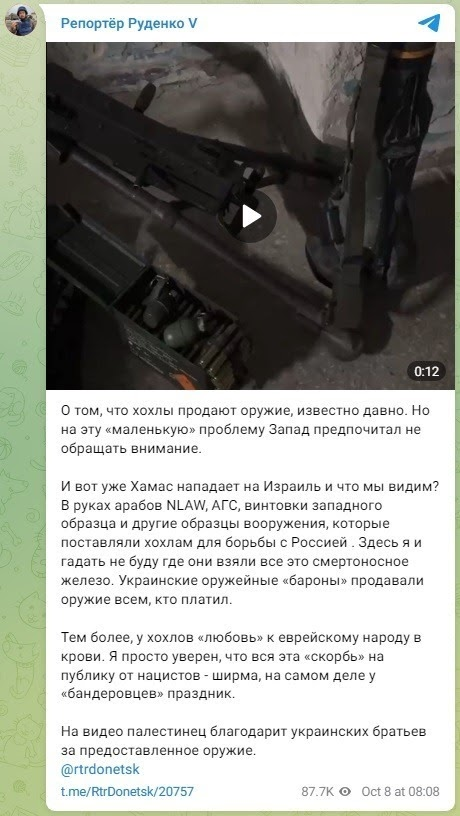 Later, another post appears on the same channel, which again refers to the destruction of tanks by HAMAS using allegedly Ukrainian weapons. This message was subsequently removed from the Telegram channel since it turned out that the tank was actually a Russian T-90 tank, which had been damaged by the Ukrainian military.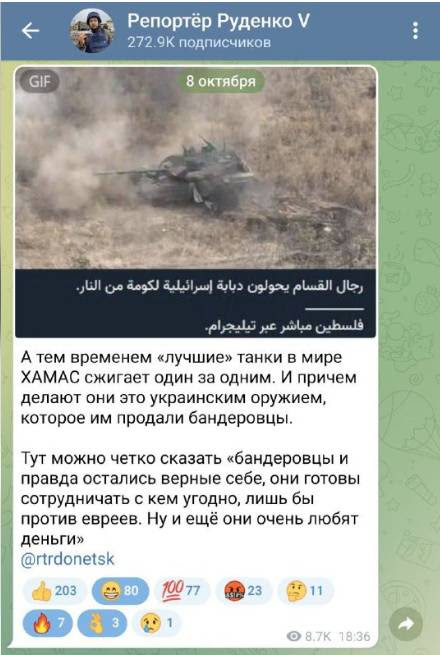 The main Russian propagandists, such as Solovyov, engaged in this topic as well, referring to a screenshot of an alleged foreign publication. However, there is no link to this material or the title of the publication, and the article itself cannot be found either on Google or on Yandex.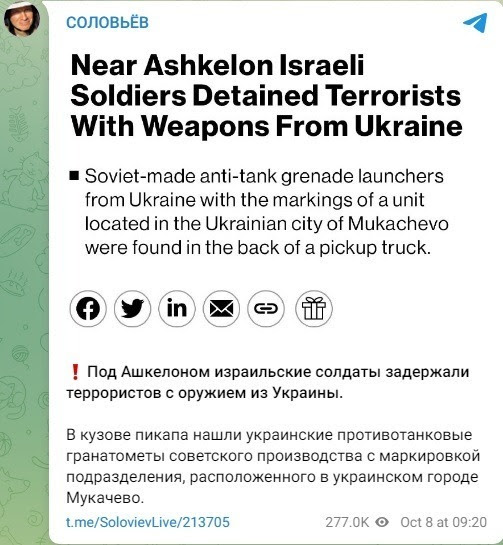 Russian media outlets present the narrative about "Ukrainian weapons in the hands of HAMAS" as allegedly "exposing twenty years of illegal arms sales around the world." Propaganda materials kept mentioning "Ukrainian weapons falling into the hands of HAMAS militants."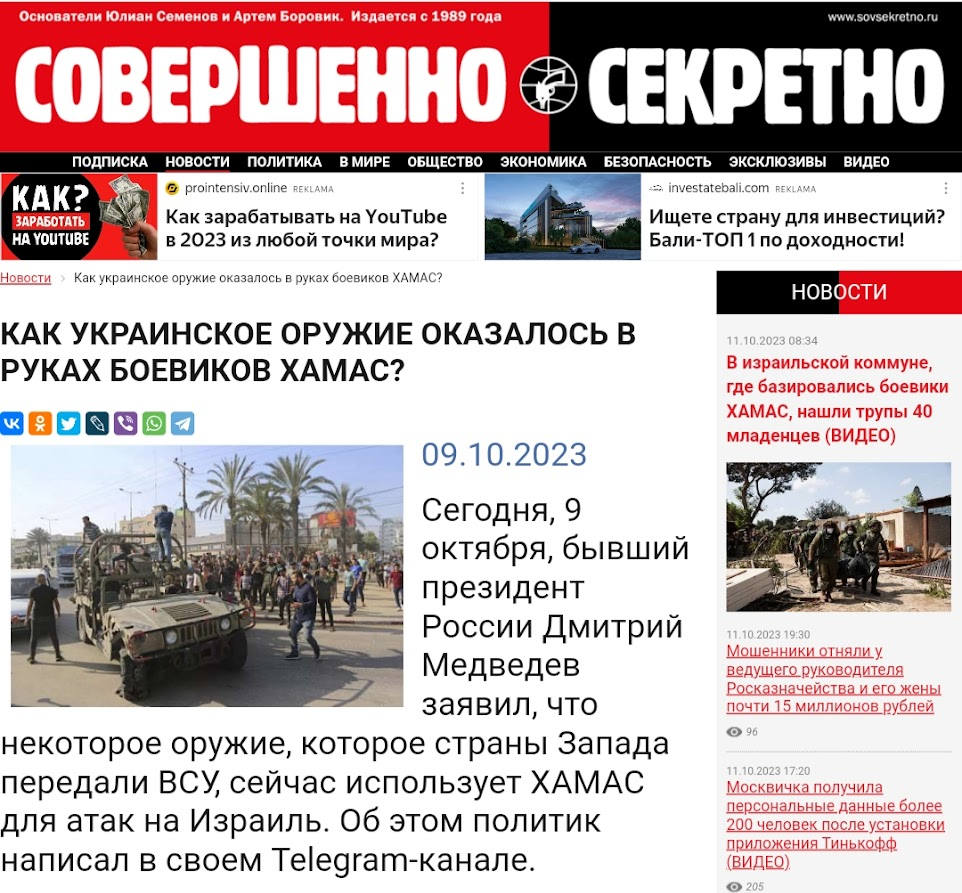 In addition, pro-Kremlin actors spread a fake video allegedly created by the BBC with a fictitious reference to the "Bellingcat investigation" about how "Ukraine supplied weapons to HAMAS." However, neither BBC News nor Bellingcat have actually made such reports or provided any conclusions.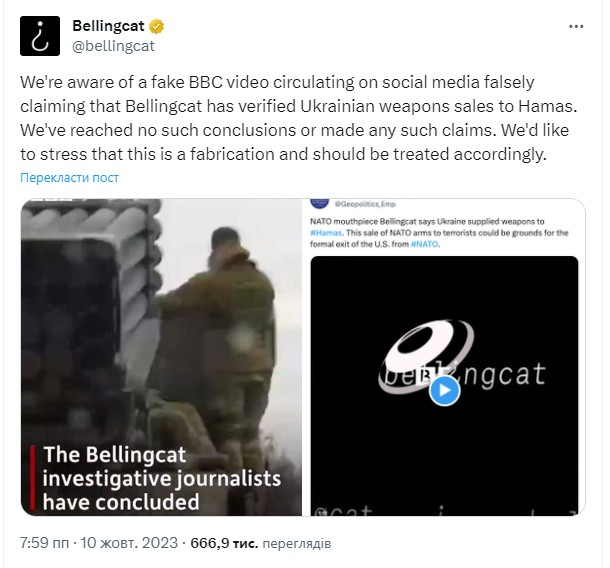 At the same time, Russian propaganda promotes the statement that "the United States will not manage to provide aid to two fronts" in this context.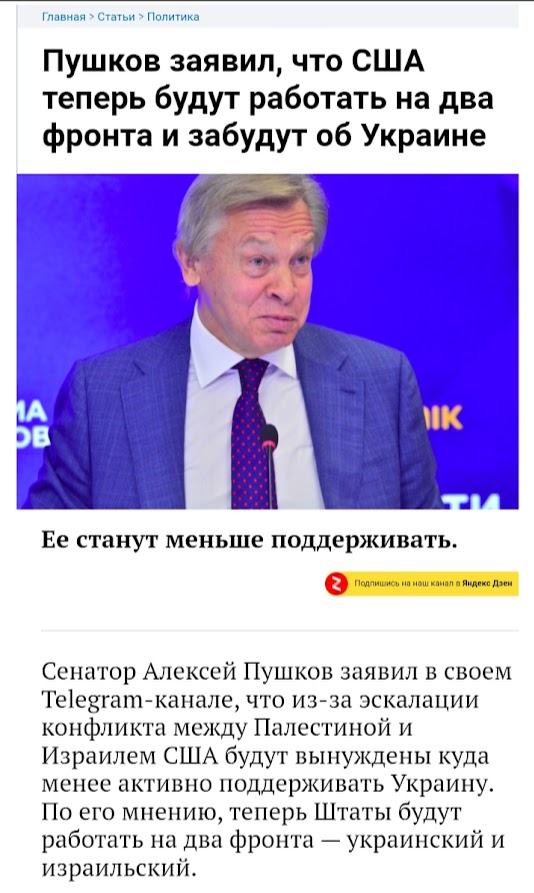 Thus, Russian propaganda actively reacted to the outbreak of the war in the Gaza Strip and used it in its own information war against Ukraine, launching a new discrediting campaign. However, the start of the campaign was so fast that Russia found no evidence other than empty words, dubious photos and videos, and links to unnamed publications.