Navigation and useful materials
TOP NEWS: First 100 civilians who were hiding at Azovstal steel plant from Russian shelling were evacuated from Mariupol to Ukrainian controlled territory. Russian Forces continue to shell Ukrainian cities. In the Kherson and Zaporizhzhia regions, Russian Forces have cut off mobile and Internet connections. Russian Forces plan provocations in Moldova's unrecognized breakaway territory of Transnistria. The speaker of the US House of Representatives Nancy Pelosi arrived in Kyiv. Russian hackers attacked Ukrainian Railways
PHOTO OF THE DAY: In Kharkiv, the subway has been transformed in a bomb shellter where thousands of civilians hidding from Russian shelling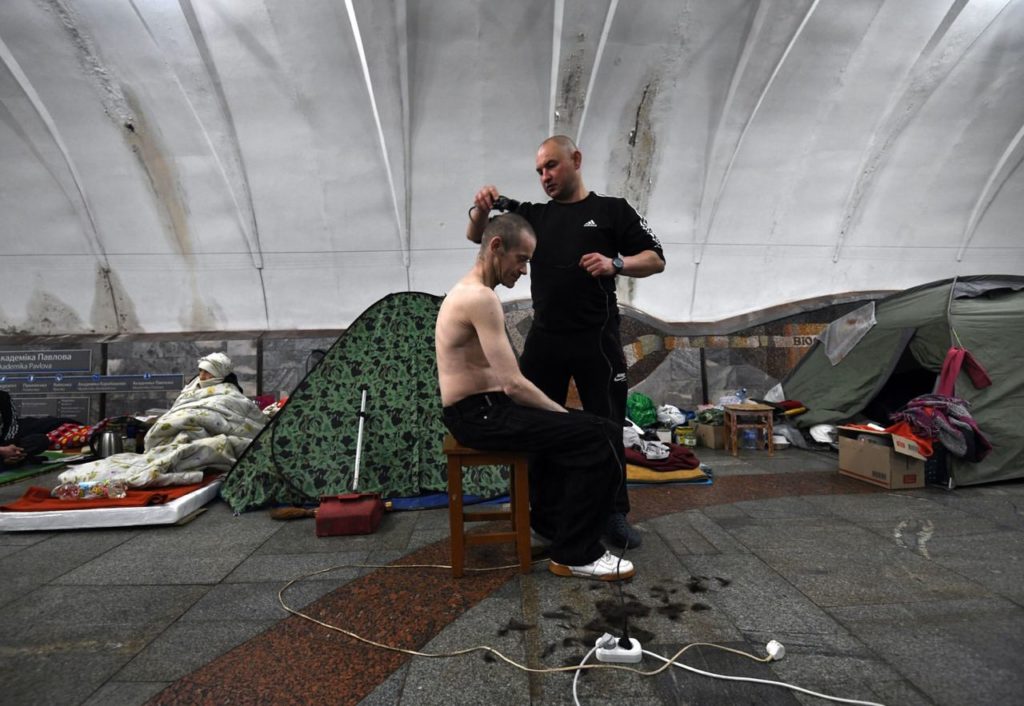 VIDEO OF THE DAY: Evacuation of civilians from Mariupol's Azovstal steel plant to Ukrainian controlled territory
First 100 civilians were evacuated from Mariupol's Azovstal steel plant with the help of the United Nations.
MAIN NEWS
Russian Forces attacked the Dnipropetrovsk region with missiles
On May 1, Russian Forces launched a missile strike on Synelnykove district of the Dnipropetrovsk Oblast. One woman was injured.
Russian Forces cut off communications and the Internet connection in Kherson and Zaporizhzhia Oblasts
Mobile and Internet connections in Kherson and Zaporizhzhia Oblasts have been cut off.
Russian Forces plan provocations in Transnistria
Moldova's unrecognized breakaway territory of Transnistria is being continued to prepare for war against Ukraine. That was announced by Defense Intelligence of the Ministry of Defense of Ukraine. A large circulation of the Transnistrian newspaper, dated May 2, 2022, was printed on the territory of Moldova's Transnistrian region. The central material of the newspaper is "Official address of the residents of Transnistrian Region of the Republic of Moldova to the President of the Russian Federation Putin".
Russian hackers attacked Ukrainian Railways
Ukrainian Railways were attacked by Russian hackers. The state-owned enterprise was warned about possible temporary failures.
Security Service of Ukraine neutralized the sabotage reconnaissance group planning the false flag operation
The Security Service of Ukraine reported on May 1 that they neutralized Russia's sabotage reconnaissance group that had been planning to shoot down a passenger plane over Russia or Belarus with a US-developed Stinger air-defense system and blame it on Ukraine and its allies.
The speaker of the US House of Representatives Nancy Pelosi arrived in Kyiv
Ukraine has called on Germany to approve the defense lend-lease act
Such a statement was made by the Ukrainian ambassador to Germany Andriy Melnyk. He called for speeding up the export of heavy weapons to Ukraine.
Ukraine temporarily closed four occupied ports
The Ministry of Infrastructure of Ukraine has decided to close the temporarily occupied seaports of Berdyansk, Mariupol, Skadovsk and Kherson.