Navigation and useful materials
The Centre for Strategic Communication and Information Security has analysed the media landscape of Lithuania, Latvia, and Estonia based on monitoring conducted by the Ukrainian social startup LetsData in partnership with the Detector Media NGO in September and October to find out what the online media of the Baltic countries are saying about Ukraine and how Russian propaganda affects it.
Lithuania, Latvia, or Estonia: who covers the events in Ukraine most actively?
An analysis of the dynamics of publications from September 17 to October 27 indicates that Lithuanian online media write about Ukraine more than others. Among the three studied countries, Estonia is the one that writes about the events in Ukraine and related subjects the least often.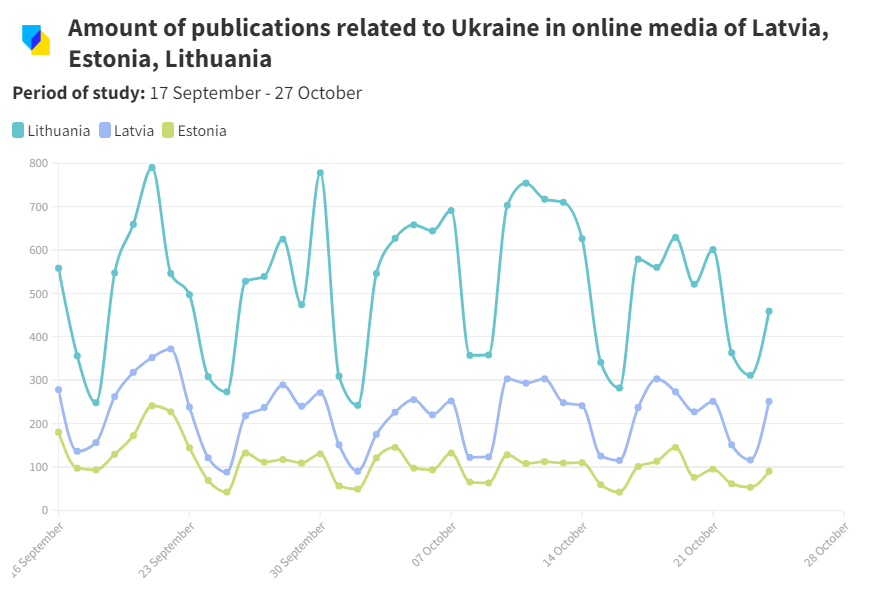 The topics where Ukraine is brought up most frequently include frontline news, economy, and energy. On the other hand, the topics of sanctions, European integration and Ukraine's accession to NATO are covered less. The least common topic over September and October was the subject of military aid to Ukraine. Such monitoring results correspond to the general trend of the media landscape in European countries.
What messages of Russian propaganda are present in the online media of the Baltic States?
Latvia. In Latvia, Russian statements and particularly Putin's statements are sometimes reproduced. This was how in October, Latvian information space was infiltrated by statements that "the president of Russia is not planning to destroy Ukraine," and "Ukraine's accession to NATO will lead to World War III."
Lithuania. In October, Lithuanian online media reported messages about "the easing of the energy crisis through the lifting of sanctions", "the cessation of arms supplies to Ukraine" and that "eventually, the West will have to talk to Russia about a common future."
Estonia. In Estonia, Russian messages ended up in the information space mostly through citing persons who reproduce them. Common statements were connected with calls for peace negotiations with Russia, as well as manipulations concerning refugees.
Among the phrases used to refer to Russia's war against Ukraine, the online media of all three countries only occasionally use the phrase "special military operation," but it is mostly used in quotation marks. The use of the word "conflict" in the context of war is still a rare option, too.
How else does Russian propaganda get into the Baltic States?
In addition to reproducing the statements of various individuals who broadcast Russian messages, quoting Kremlin media can also be the way for Russian propaganda narratives to enter the information space of the Baltic States.
For example, a study of the media landscape of Lithuania, Latvia, and Estonia over September 12 – October 31 shows active citing of Russian propaganda media RIA Novosti, TASS, and other equally notorious disinformation channels of the Kremlin.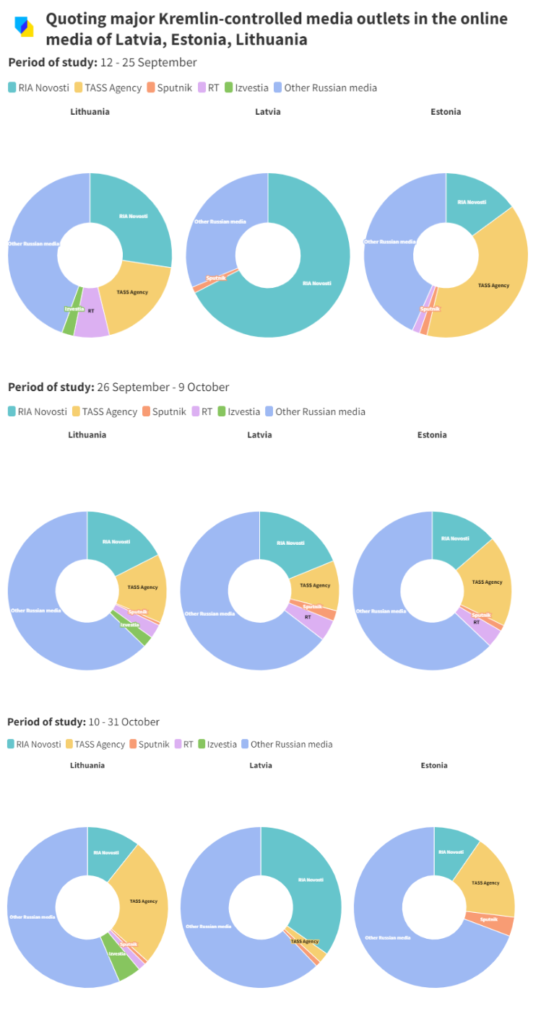 Centre for Strategic Communication and Information Security