Navigation and useful materials
"Western media" is a well-known Russian propaganda technique. And The National Interest (TNI) is one of the favorite American media outlets of Russian propagandists and pro-Russian media in Ukraine.
Why? Because TNI often praises Russia, especially its military might, calls on the US leadership to take it into account, and most importantly – not to sacrifice relations with Russia for the sake of Ukraine, because it isn't worth it.
However, sometimes TNI articles do not look convincing enough, so Russian propaganda spices them with additional manipulations and fakes.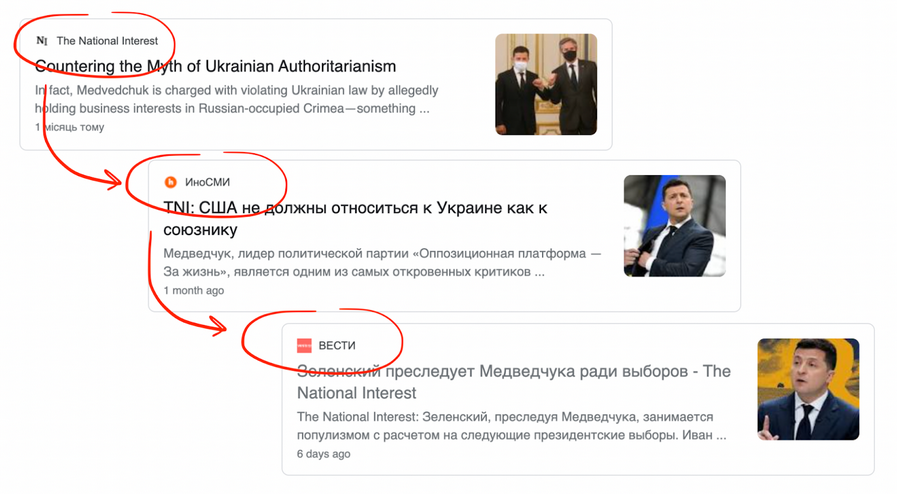 The most recent example is a message that the President of Ukraine Volodymyr Zelensky, who persecutes Medvedchuk for treason, plays to the gallery preparing for the next presidential election. Several pro-Russian media outlets in Ukraine disseminated this message with reference to TNI.
And immediately — a fake. The article of the British political scientist of Ukrainian origin Taras Kuzio, which these media outlets allegedly quoted, mentions Medvedchuk not even once.
They may have mistaken it (or deliberately confused) with an earlier article, in which Medvedchuk was indeed mentioned as "a prominent pro-Russian politician" and "one of Zelensky's most outspoken critics" who fell victim to "increasingly ugly political repression." It was shared by Shariy on May 31. It accused Ukraine of "sliding into authoritarianism."
Ted Galen Carpenter, author of the article, regularly writes for TNI urging the United States to reckon with Russia's interests and not to provoke Russia, including exercises and a willingness to intervene in the war on the side of Ukraine. Without going beyond the narratives of Russian propaganda.
Interestingly, within a week, TNI published a response to Carpenter's article entitled Countering the Myth of Ukrainian Authoritarianism, in which Ukraine was called "one of the most promising democracies in Eastern Europe." But, of course, this article did not interest the Russian and pro-Russian media.
What do you need to know about The National Interest and its commitment to Kremlin narratives? It is the information body of The Center for the National Interest, a think tank headed by Dimitri Simes.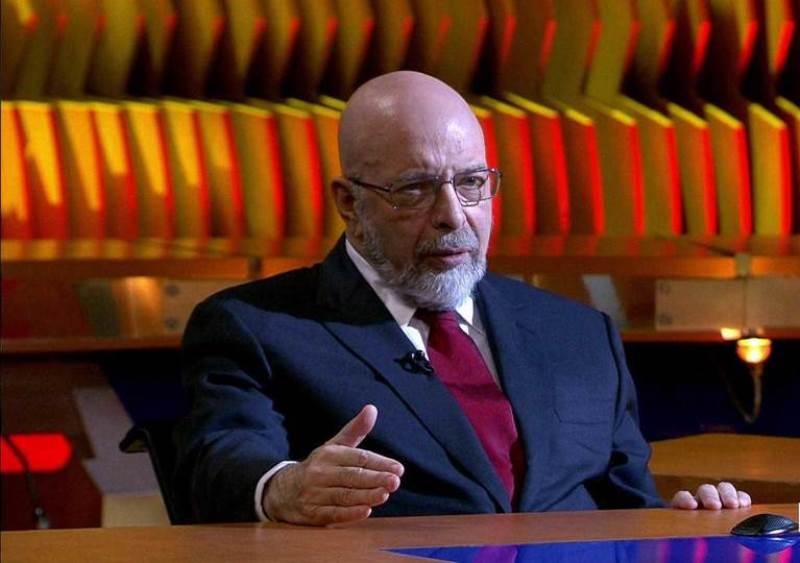 What you need to know about the head of this think tank:
Simes is an American of Soviet descent, born in Moscow, Moscow State University graduate.
Simes' name appears 134 times in Robert Mueller's Report on the Investigation into Russian Interference in the 2016 Presidential Election.
Simes introduced Jared Kushner to the Russian Ambassador to the United States and Jared Kushner helped the Russians get inside access to the Trump campaign.
In 2015, TNI published the article by accused Russian agent Maria Butina.
According to the 2014 report Rand Paul's Russian Connection, the advisory council of the Center for the National Interest included Alexey Pushkov, a Russian Duma odious official.
Following the Putin government's crackdown on independent Russian media in 2000, Simes mounted a vigorous defense of the Kremlin. His comments prompted an angry letter from U.S. Ambassador to Russia Robert Strauss. "Dear Dimitri: You ought to be ashamed of yourself," wrote Strauss in a letter on April 20, 2001.
The family of Richard Nixon, the former president of the United States, who founded the think tank in 1994, broke off relations with him in 2011 because they were "ashamed" to associate themselves with Simes' name for his support of Putin's policies.
In February 2014, Simes held a joint press conference with Andranik Migranyan, an adviser to the Russian government and head of a Russian think tank, during which they defended Russia's actions in Ukraine.
In the fall of 2013, Simes joined the Russian president on stage at the Valdai International Discussion Club forum in Russia for a televised panel discussion. Flanked by three other panelists — Germany's former defense minister and France and Italy's former prime ministers — Simes seemed out of place at the high-ranking, Kremlin-sponsored forum. "No one directly addresses Putin at Dimitri Simes' level," noted one Washington-based Russia policy expert. "It just doesn't happen."
In mid-2018, Simes became a co-host of political show "Bolshaya Igra" ("The Big Game") on Russia's state-run Channel 1. His co-host was Vyacheslav Nikonov (the grandson of Stalin's foreign minister Vyacheslav Molotov).
And this time the TNI messages in Ukraine were used exclusively by Russian propaganda agents.