Navigation and useful materials
For many Russians, the faces of Kremlin propaganda are primarily the "stars" of Russian television from the era of Putinism: Kiselyov, Solovyov, Simonyan, Skabeyeva, as well as their lesser-known colleagues, whose ranks were relatively recently replenished by a whole cohort of military correspondents. In fact, the content for the Kremlin's media machine is created by many more people. Among them, you can find workers of TV, radio, printed media, who can hardly be called journalists considering the specifics of their activities. Bloggers, actors, musicians, athletes and other celebrities close to the authorities, politicians and political commentators also have a significant influence. The latter regularly become "experts" in international relations, epidemiology and military affairs — depending on the current key issues.
A whole other unit of this "content army" is foreigners.
The Centre for Strategic Communication and Information Security has put together the stories of the most prominent Western media figures who spread Russian propaganda and barely hide their cooperation with Putin's regime. They maintain their own projects, and also help each other to promote them.
How Russian propaganda uses foreigners
Russian propaganda generates hatred and contempt for the "collective West," chauvinism and a sense of superiority towards other nations. Despite this, it also seeks various evidence of recognition and approval of the "special Russian way."
The techniques of using foreigners in propaganda aimed at a Russian audience take into account and feed the collective inferiority complex and the "superiority" complex that compensates for it. In Russian society, giving foreigners a greater level of expertise, primarily representatives of the West, is combined with demonstrative contempt for their countries.
This is essentially the long-lasting Soviet tradition of doublethink, when public criticism of the Western lifestyle perfectly coexisted with almost religious awe towards American jeans and chewing gum.
Currently, foreigners who are used by propaganda have two key tasks:
create the illusion of foreign support to Russia itself and military and political endeavours of Putin's regime;
disseminate Russian narratives, propaganda, and disinformation to foreign audiences.
Russians are persuaded that Russia and its social and political system are a worthy alternative to the West. The tools of such influence include handing out Russian passports to VIP foreigners and covering the lives of expats from Europe and America in Russia. Federal and local TV channels film stories about their lives.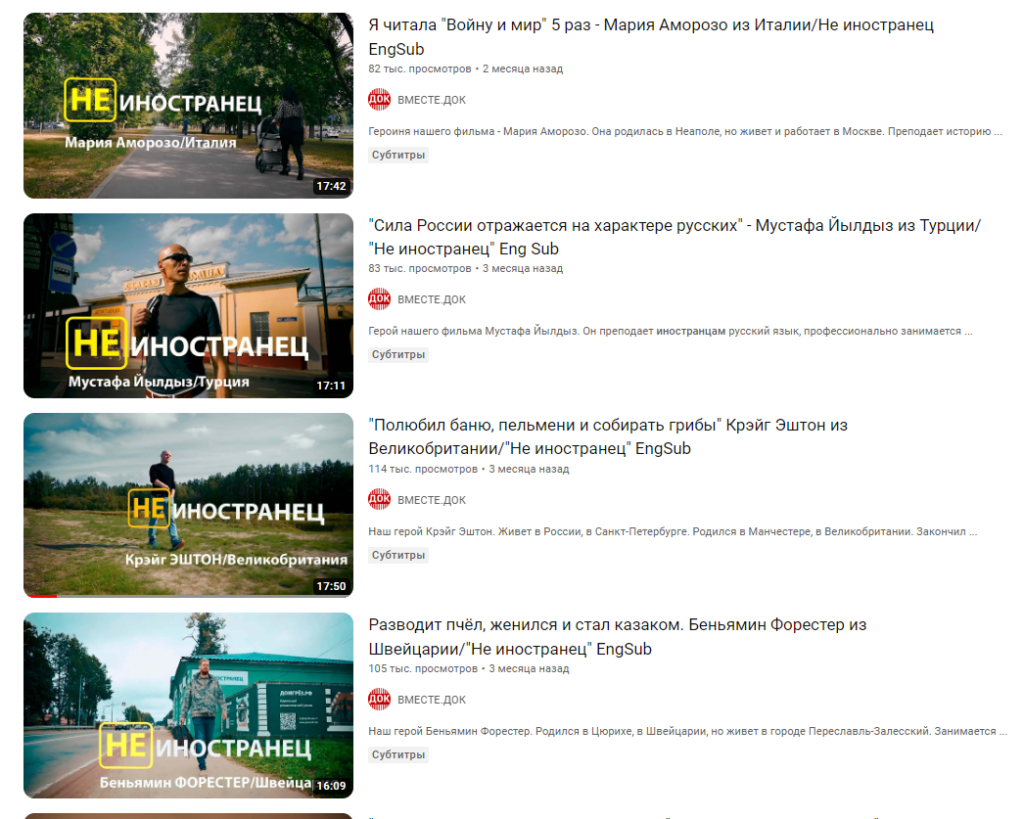 The granting of Russian citizenship to French film actor Gérard Depardieu, former action star Steven Seagal, ex-MMA fighter Jeff Monson and other actors and athletes was accompanied by full PR campaigns. Americans Seagal and Monson deliberately participate in propaganda, justify the war against Ukraine, and visit the occupied territories. But only Monson resides in Russia permanently, even becoming a local councillor representing Putin's party "United Russia."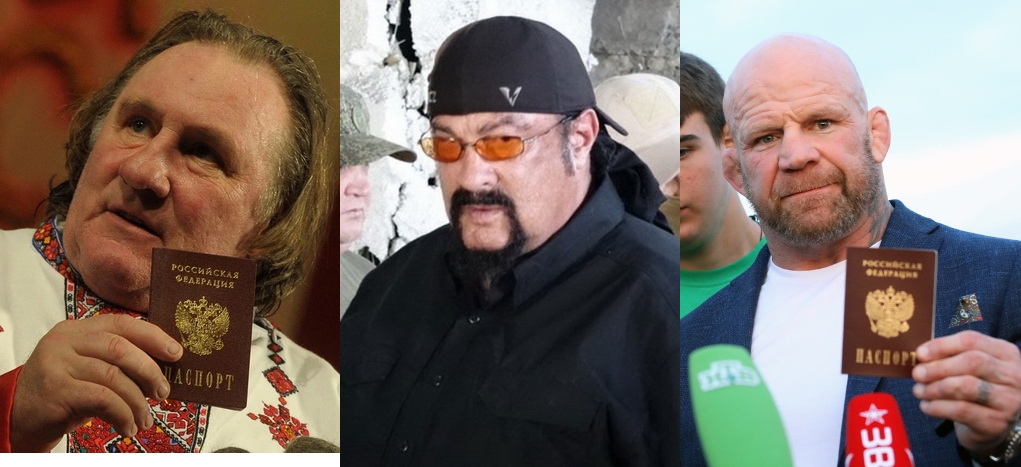 Despite their visibility, representatives of show business remain a minority among media individuals who promote the statements of Russian propaganda. The content they contribute to is distributed through:
Russian federal and other pro-Kremlin media (in Russian and other languages);
YouTube, Telegram and other online platforms and social networks;
foreign mainstream and alternative media.
The most prominent federal media aimed at foreign audiences are Russia Today (TV channels, news websites, Telegram channels) and Sputnik (news websites, Telegram channels, online radio). Sanctions introduced by the US and EU governments made it difficult for these propaganda resources but did not stop them.
Alina Lipp (Germany)
Alina Lipp is one of the most productive content creators aimed at the German audience. With no access to the mainstream media in Germany, she actively uses Telegram, YouTube, and social networks.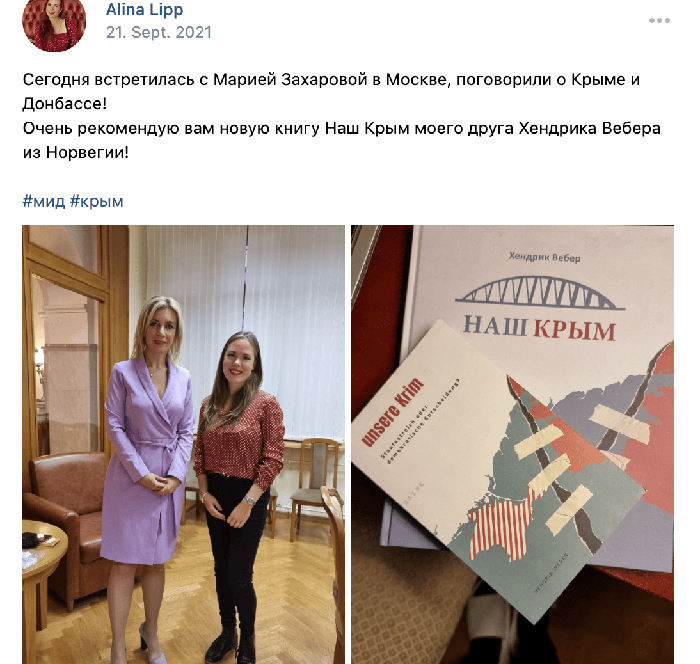 Lipp's Telegram channel Neues aus Russland ("News from Russia") has more than 180,000 subscribers. Publications, including the author's videos, are provided in German and in Russian. The content is also published on the website of the same name and on the page on the Russian social network VKontakte.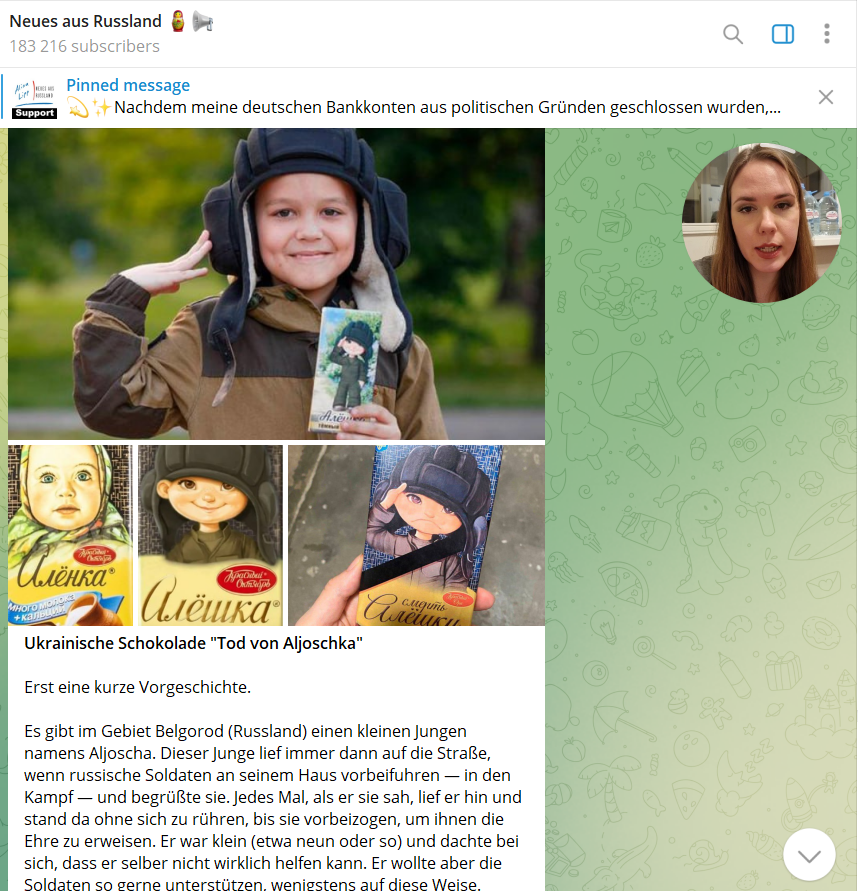 READ ALSO: Another "Crucified Boy": A "Chocolate" Fake by Russian Propaganda
In 2019, Lipp launched the YouTube channel Glücklich auf der Krim ("Happy in Crimea"). The German came to the peninsula in 2016 allegedly to carry out a research project. As a result, this project turned into a resource of propaganda content. The characters of her video compared life in Crimea before and after the Russian occupation (of course, in favour of the latter). Alina was actively helped by her father, Vladimir Lipp, a Russian who lived in Germany for a long time. He claimed that the living conditions on the peninsula are much better than in the countries of the European Union.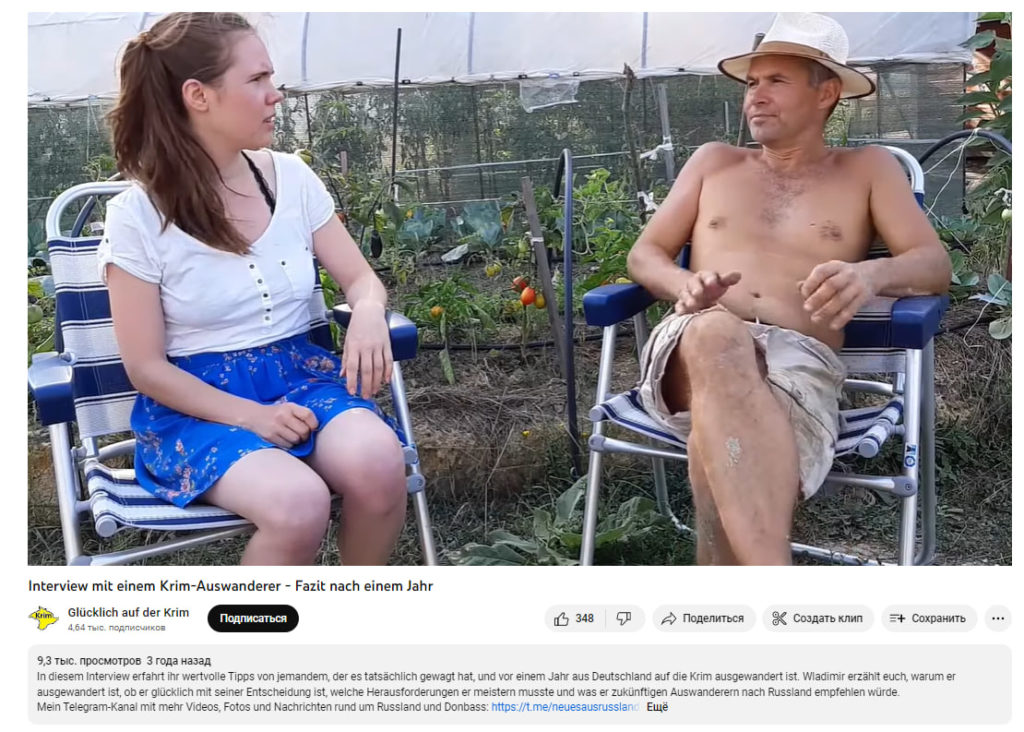 Since January 2022, the channel stopped publishing new content. Lipp switched to her other YouTube project, "A German in Russia," where videos are published in Russian with German subtitles. Since the beginning of the full-scale invasion, its main focus has been justifying the Russian occupation and spreading fakes about "Ukrainian crimes." Alina Lipp actively uses children who ended up under occupation to create propaganda content.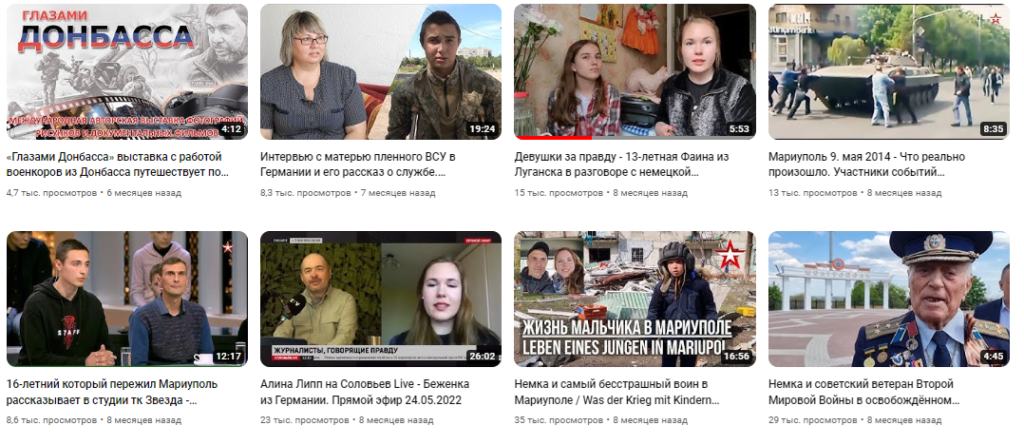 READ ALSO: Sacred Victims and Youth Army: How Russian Fascism Uses Children
In January 2023, the propagandist released a 16-minute documentary film "Donbas 2022," created on the basis of materials filmed in Donetsk, Mariupol and other occupied cities. Lipp managed to spin the story of the Russo-Ukrainian war as "Ukraine's attack on the Donbas" in 2014, and the Russian intervention is justified by the need to "protect the population from the Nazis."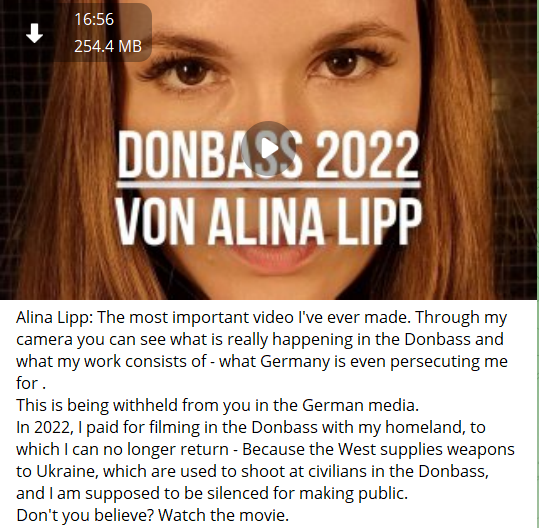 The German version of this video has received more than 340,000 views on Lipp's main Telegram channel alone, and the Russian version has more than 670,000 views. Propaganda network InfoDefence published translations of the film in Telegram in English, Italian, Dutch and Polish languages. The total number of views of all language versions in Telegram alone exceeded 2.5 million. Another platform on which this film was actively promoted was the VKontakte social network.
Alina Lipp is invited to shows of Russian TV channels and radio stations. She takes part in the shows of the Solovyov Live studio and the propagandist comedian Max ComicadZe's show. In the video released in January 2023, the parodist played the role of Volodymyr Zelenskyy, and Lipp played the role of German Foreign Minister Annalena Berbok.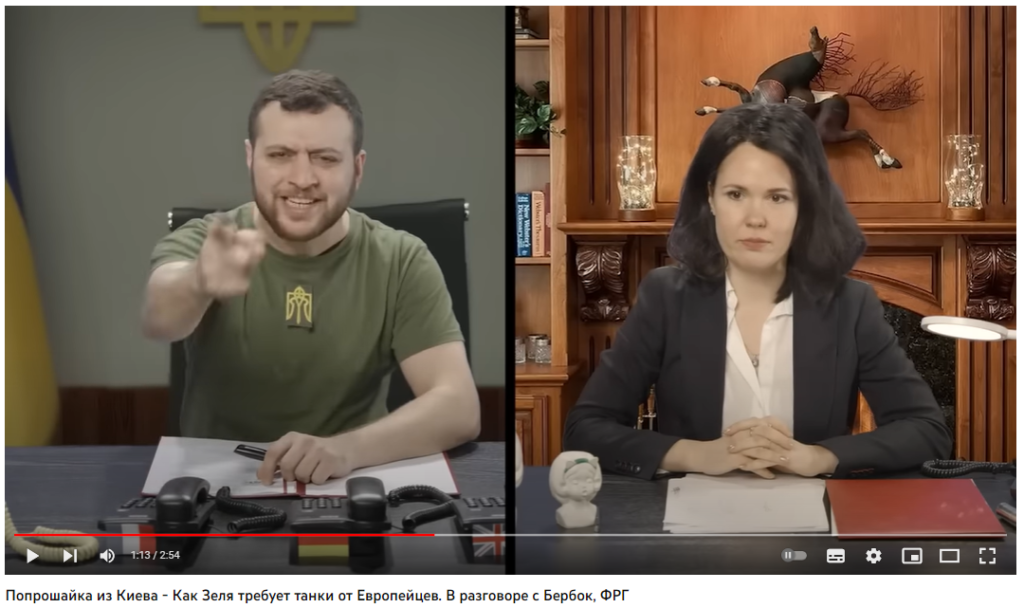 Thomas Röper (Germany)
Thomas Röper heads the media he founded, Anti-Spiegel, the name of which demonstratively emphasizes its "alternativeness" through opposition to the popular German weekly. The total number of subscribers to Röper's Telegram and YouTube channels exceeds 200,000.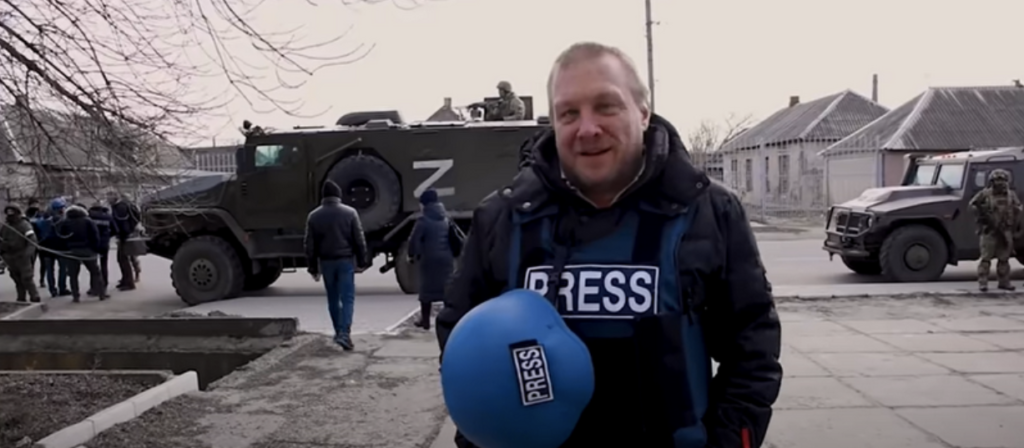 Anti-Spiegel and its founder specialize in conspiracy theories. In 2021, Röper published Inside Corona, which was devoted to conspiracy theories surrounding the COVID-19 pandemic. Two years before that, a collection of Putin's speeches was published with comments by Röper, who also edited this publication. Russia Today participated in the promotion of Röper's book.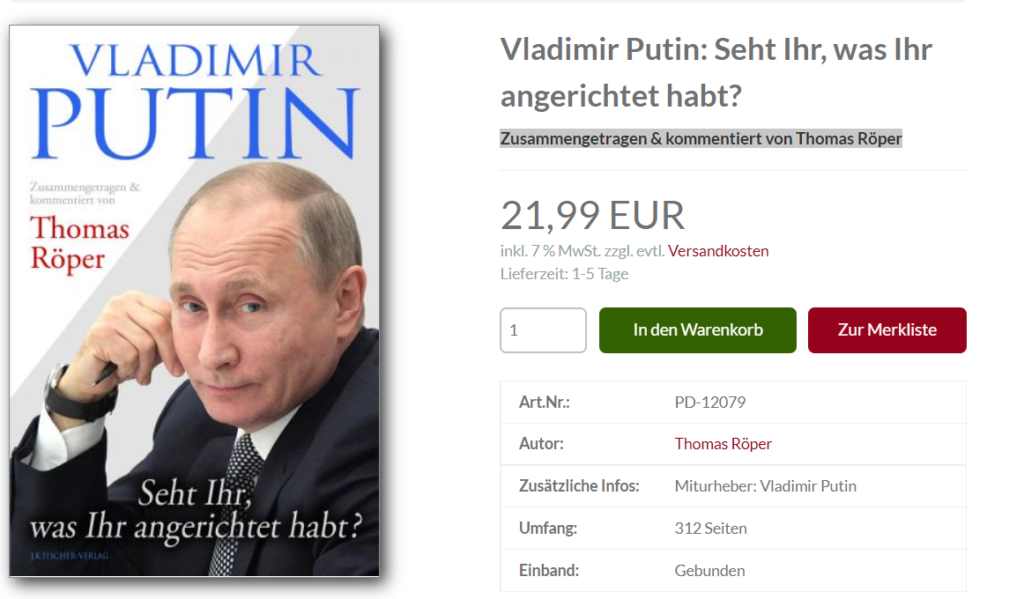 As in the case of Alina Lipp, Röper is also regularly given the floor by the Russian media, positioning him as a German journalist. Meanwhile, he creates propaganda content in German about the occupied territories.
Anti-Spiegel harshly criticizes the German government for military support to Ukraine, using the manipulative statement "more weapons means more deaths," accuses the government of dependence on the USA, and Western media — of spreading fakes about the Russian-Ukrainian war. Röper repeats the same statements in the shows of friendly bloggers and Russian TV channels. For example, on April 21, he took part in a conference organized by the Public Chamber of the Russian Federation entitled "Evidence of mass war crimes committed by the armed forces and nationalist units of Ukraine in Mariupol."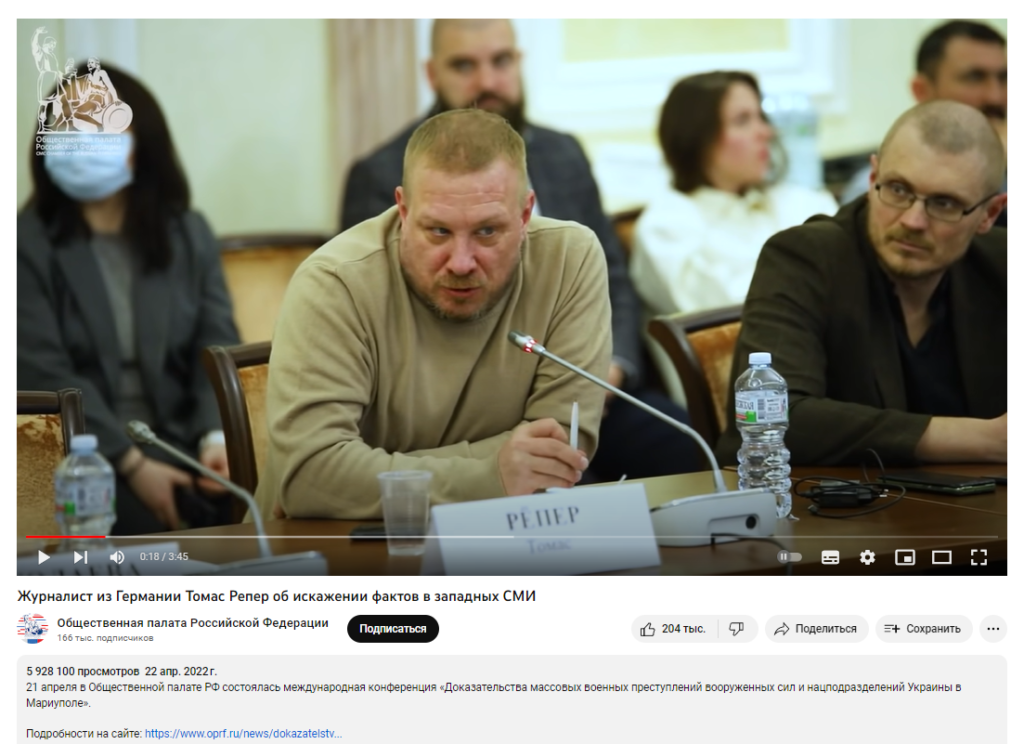 Case in point: the Anti-Spiegel site is registered in the RU domain zone.
Wyatt Reed (USA)
Wyatt Reed is a correspondent for the Russian news agency Sputnik, who positions himself as a left-wing activist, an opponent of imperialism and a fighter for racial and social justice. Reed's Twitter account is labelled as "media affiliated with the Russian Federation."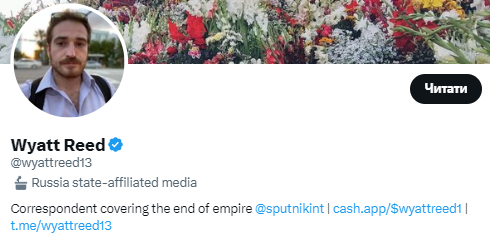 In his Twitter and Telegram channels, Reid promotes the narrative of "Ukrainian Nazism," justifies aggression and glorifies the Russian army. He also cooperates with the American website The Grayzone, where he publishes his "exposés." In September 2022, Reid participated as an "observer" in Russian pseudo-referendums in the occupied territories.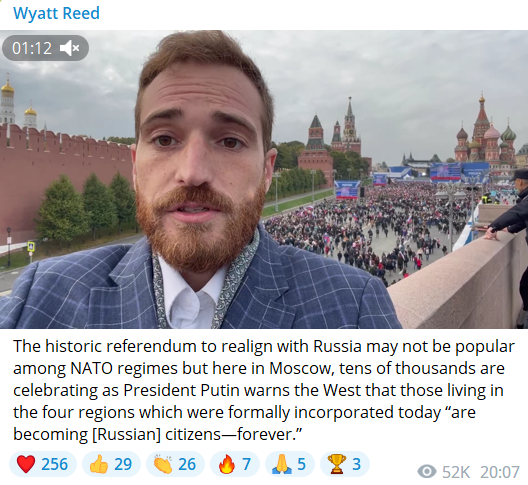 Max Blumenthal (USA)
The founder of the online publication The Grayzone mentioned above is the American left-wing journalist Max Blumenthal, who had long worked with the New York Times, The LA Times, Al Jazeera English and other popular outlets.
Since 2015, he has been publishing materials consistent with Russian propaganda: about the "Nazi coup" in Kyiv, the "genocide of the Russian-speaking population" in the Donbas, etc.
Blumenthal is also known for his anti-Israel stance. He even accused Nobel laureate Elie Wiesel, a Holocaust survivor, of turning "from a victim of war crimes to a supporter of those who commit them." He said that the deceased writer "did not deserve to be honoured."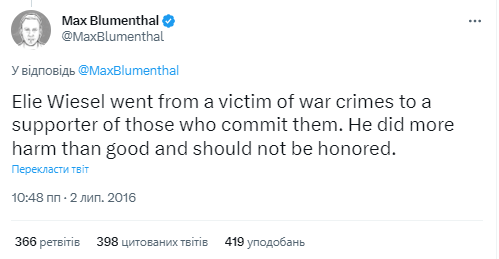 Due to this tweet in 2016, not only Max was viewed as a marginal figure, but also his father — journalist Sidney Blumenthal, who then worked in Hillary Clinton's campaign headquarters. The team of the US presidential candidate publicly distanced itself from this scandalous family.
Instead, Blumenthal was spotted by the Russian media, which began to quote him regularly. In 2020, he married RT America host Anya Parampil, who is also currently involved with The Grayzone. The publication collects donations from readers through PayPal Patreon, but does not publish financial statements.
Blumenthal's publication is a platform for spreading disinformation and anti-Ukrainian propaganda. The Grayzone columnists accuse NATO and the USA of starting the war, the Ukrainian government of ethnic cleansing and connections with neo-Nazis, and President Zelenskyy of destroying the opposition.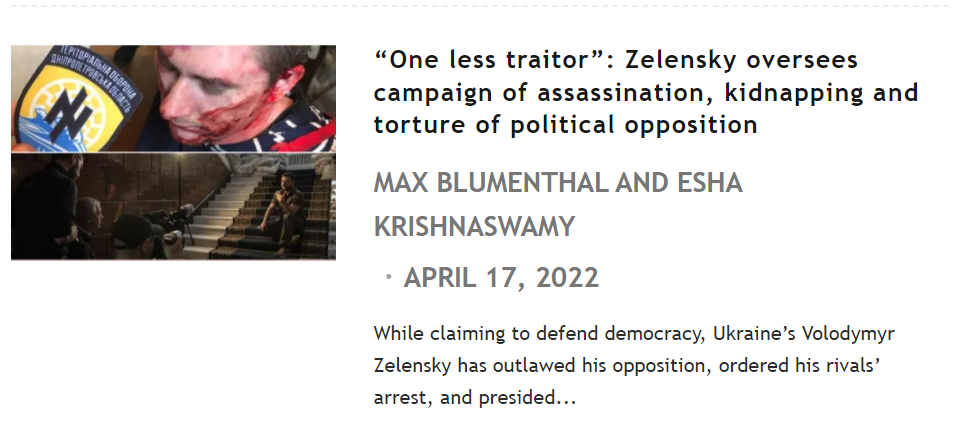 Blumenthal's co-author Esha Krishnaswamy (host of the Late Night with Lenin podcast) published an article about "child rapists released from prison by Zelenskyy" to "strengthen a depleted Ukrainian army." In her article, the columnist used an outright fake about the ex-commander of the disbanded militia company "Tornado" Ruslan Onishchenko. He was released after serving his sentence, not because of a presidential pardon. In addition, Onishchenko did not join the ranks of the Defence Forces of Ukraine after his release.

Laurent Brayard (France)
Like Alina Lipp or Wyatt Ridd, Laurent Brayard spends most of his time in the occupied Ukrainian territories or in Russia. Before 2010, he moved to Moscow; in 2012-2013, he worked in the French editorial office of the Voice of Russia channel.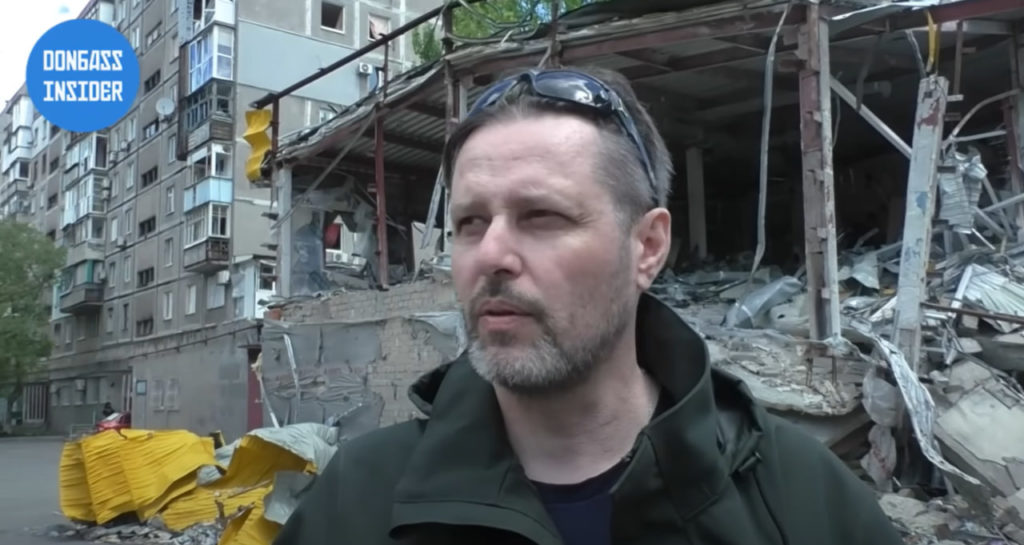 In 2015, Brayard published the book Ukraine, the Kingdom of Disinformation, which was full of fakes and statements about Ukrainians being the same nation as Russians. Brayard participated in the "anti-fascist congress" in Donetsk and was the editor-in-chief of the propagandist online publication Novorossia Today. After the closure of this project in 2018, he headed a new resource — Donbass Insider.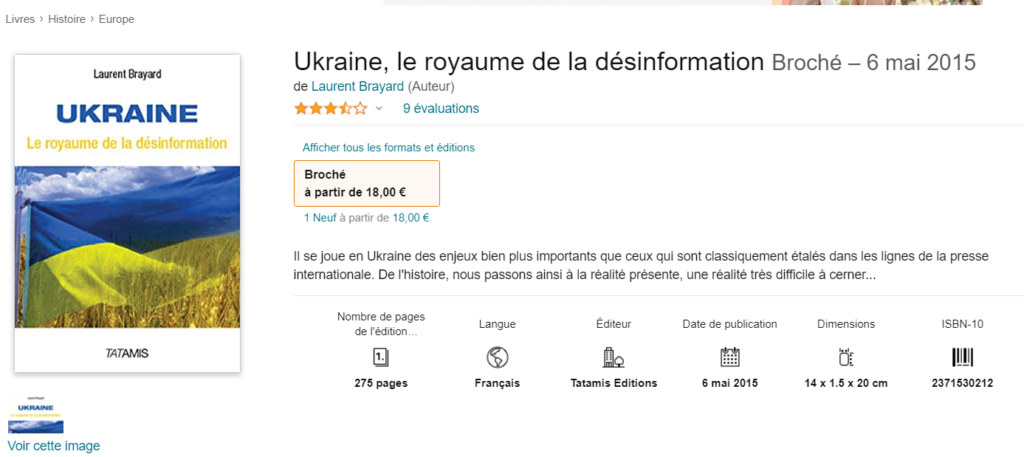 The website of this outlet has three language versions: French, English and Russian. The French-language YouTube channel Donbass Insider has more than 38 thousand subscribers. The Telegram channel has more than 30 thousand subscribers, and the Twitter account — 17 thousand followers. Information on these resources is published in French and English.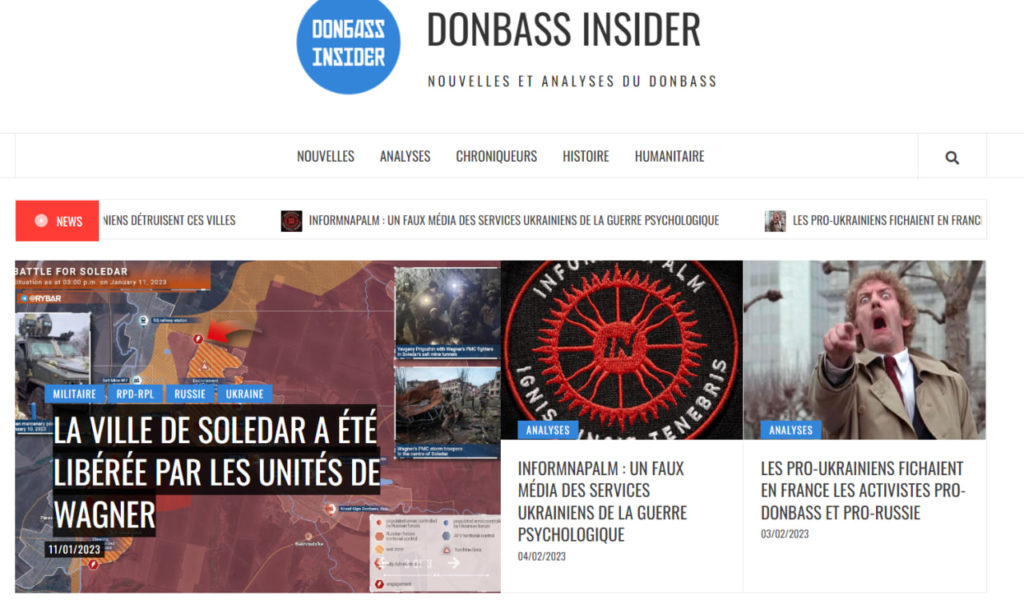 Even though Donbass Insider is positioned as a source of exclusive content, a significant part of the publications are translations from Russian media and Telegram channels.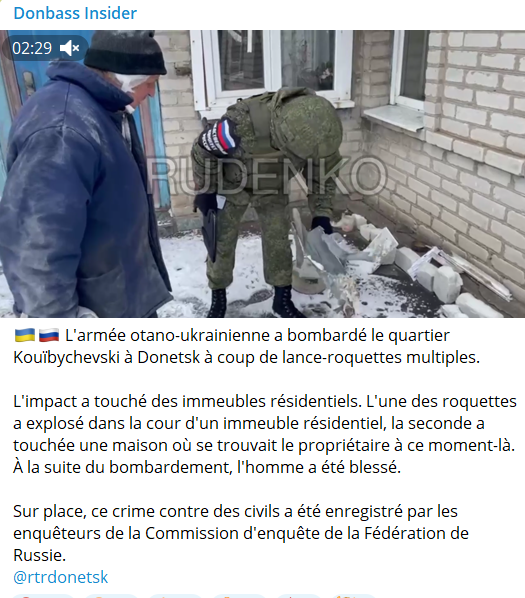 Russian narratives in the West are also promoted by more reputable "friends of the Kremlin." Those include representatives of the International Schiller Institute, retired military, former and current European and American politicians, diplomats, officials who have access not only to Russian, but also to mainstream Western media.
The propaganda is also spread by clearly fringe figures, like former UN inspector Scott Ritter, convicted back in 2011 for molesting a minor. His "colleague" is Russell "Texas" Bentley, wanted in the United States for drug trafficking.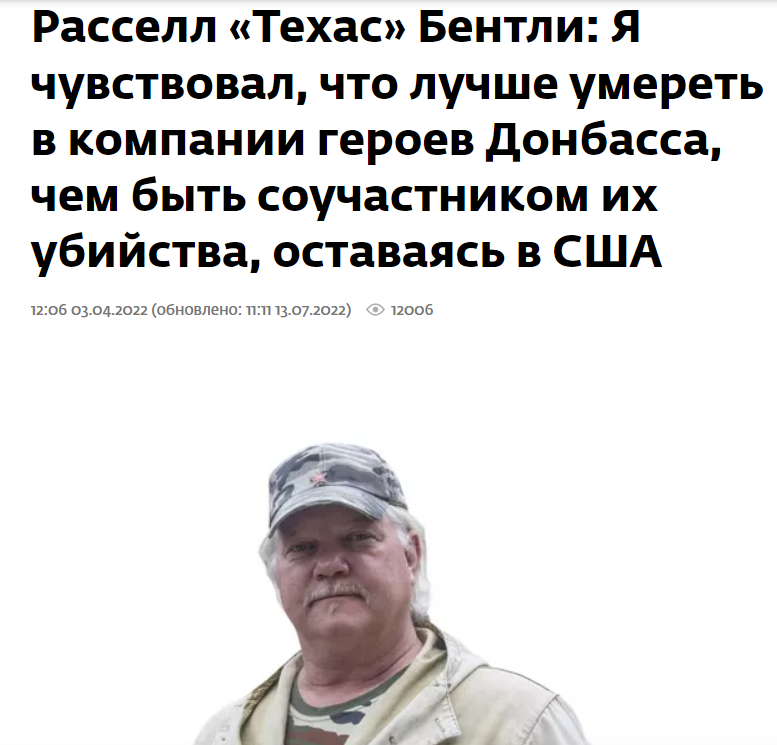 The latter is included in the pool of foreign pseudo-journalists who are almost constantly spending time in the occupied territories. Some of them, for example, the British "correspondent" Graham Phillips, differ from Russian military correspondents only by the language of their content.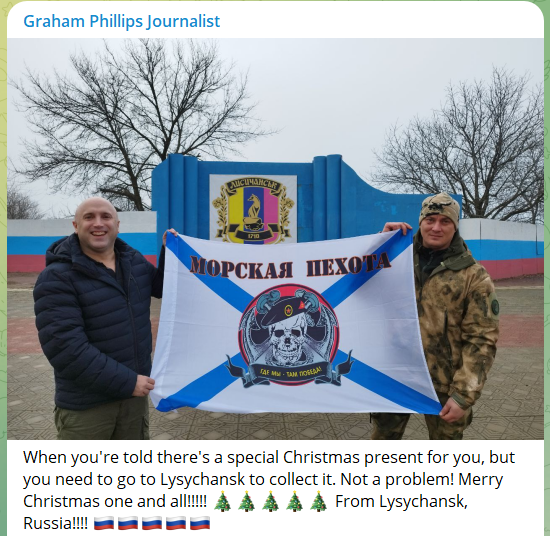 The connections between the individuals mentioned in the material are easily traced because the messages they broadcast through their resources are similar in content. In addition, all of them are highly sought speakers of the Russian media. All these pseudo-journalists and bloggers regularly help each other in creating content. For instance, Russell Bentley regularly comments on Alina Lipp's YouTube channel and starred in her film "Donbass 2022". Lipp and Wyatt Reed participated in Max Blumenthal's streams.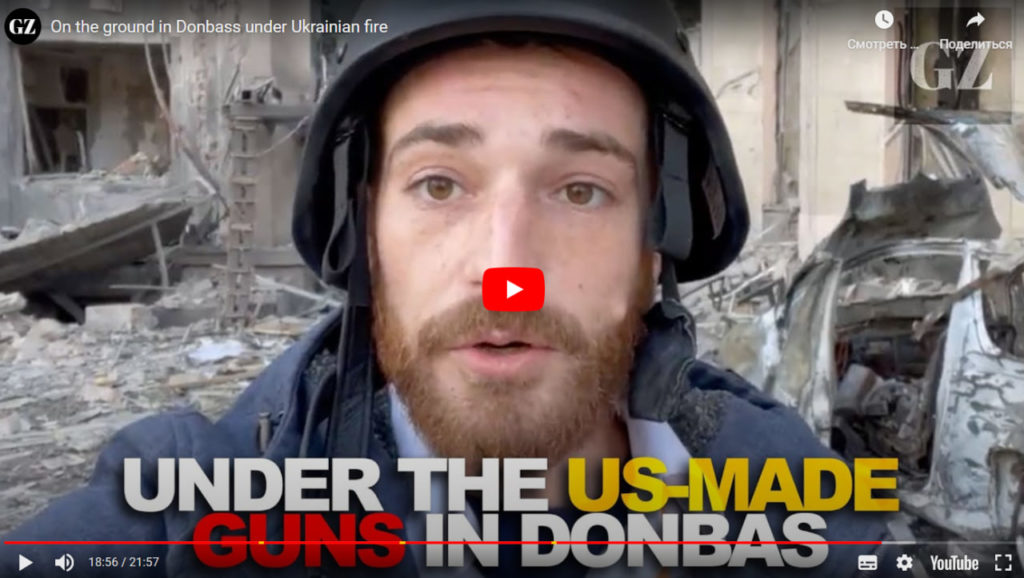 Lipp's friendly relationship with Thomas Röper is evidenced by the photos and videos they published.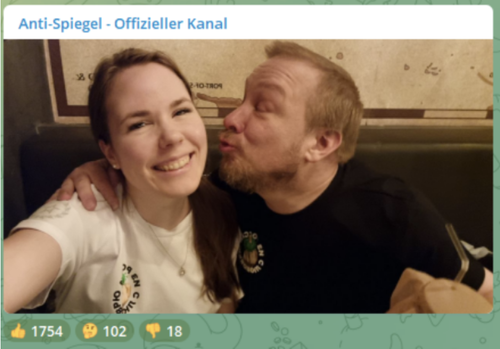 While the crackdown on Russian disinformation, blocking of TV channels, websites, YouTube channels and sanctions against propagandists have made it difficult to spread Kremlin narratives beyond Russia, this is still not an impossible task. Information coverage of an aggressive war against Ukraine not only justifies murders and other crimes by the Kremlin, but also provokes new ones. That is why they can be considered conscious accomplices of the information war, for which they should also face justice.
Centre for Strategic Communication and Information Security