TOP NEWS: ​​Russia is likely to have  used chemical weapons in Mariupol. Russia continues to shell and attack Ukrainian cities, mostly Mariupol and the cities in the Luhansk Oblast. Killed by Russia's forces Ukrainians continue to be found in those settlements earlier occupied by Russia.
PHOTO OF THE DAY: A woman in Irpin smells bread brought by volunteers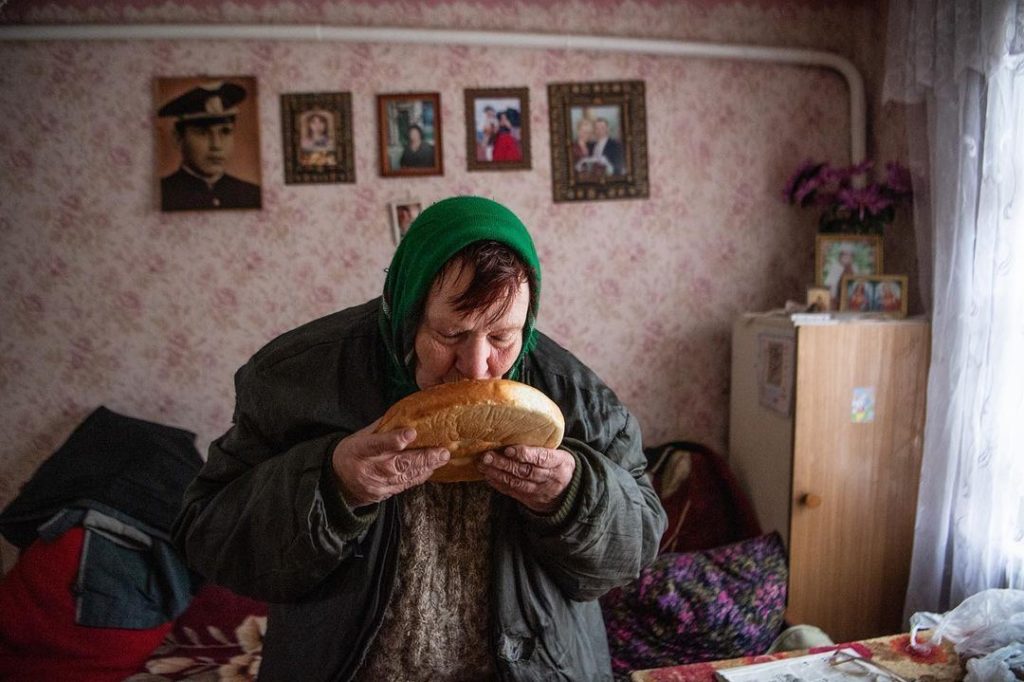 MAIN NEWS
Azov fighters and civilians were injured by Russia's chemical attack in Mariupol
Azov leader Andriy Biletsky announced that Russia had used chemical weapons and three Azov fighters had been injured.
According to Azov, civilians have been injured too. The elderly woman suffered the most. She has high blood pressure, dryness and heartburn in the oropharynx and mucous membranes of the eyes.
A spokesman for Russia's proxies in Donetsk announced chemical attack a few hours before
Eduard Basurin, a spokesman for Russia's proxies in Donetsk, made a statement to use chemical weapons against Azov fighters in Mariupol on television a few hours before the attack.
The world reacts to Russia's probable chemical attack in Mariupol
The US Defense Department press secretary John Kirby said the Pentagon was closely monitoring reports Monday evening of a possible Russian chemical weapons attack on the besieged Ukrainian city of Mariupol. According to him, reports about Russia's chemical attack are deeply concerning.
British Foreign Secretary Elizabeth Truss said that Great Britain has already been checking information about the chemical attack. According to her, if the information is confirmed, Putin and his regime will have to be held accountable.
Russia continues to shell the cities of the Luhansk oblast
Russia's forces continue to attack Rubizhne, Lysychansk, Severodonetsk and Novodruzhesk. Russia destroyed seven more residential buildings last night. At least one person were killed and three people were injured in Lysychansk.
Russia launched a missile strike on the Khmelnytskyi Oblast
Russia hit an infrastructure facility in the Khmelnytskyi Oblast with a missile. There are no victims.
Six Ukrainians were found killed in the village of Shevchenkove in the Kyiv Oblast
Russia's forces have been systematically killing civilians on temporary occupied territories. That was announced by the Brovary District Prosecutor's Office. Such cases have been recorded in the village of Shevchenkove.
A car exploded on a Chernihiv-Kyiv highway
A civilian car exploded on an anti-tank mine on the Chernihiv-Kyiv highway, killing a 64-year-old driver.
In the Luhansk Oblast, people are buried in yards and mass graves
In the cities of the Luhansk Oblast, due to the difficult situation, killed people are buried not in cemeteries, but in yards in mass graves.
Ukraine's postal service issued a stamp with the defenders of Zmiinyi Island
Ukrposhta, Ukraine's postal service, announced it had issued a postage stamp with the slogan, "Russian warship, go f*** yourself", that was put into circulation today.
The Belgian Embassy returns to Kyiv
Belgium will return its embassy to the Ukrainian capital. This was announced by Belgian Foreign Minister Sophie Wilmes.
Russia plans terrorist attacks on their territory to blame Ukraine
Russia plans explosions and millises attacks on its territory to blame Ukraine. This was announced by the Chief Directorate of Intelligence of the Ministry of Defence of Ukraine Kyrylo Budanov.
More than 25,000 books have been published for Ukrainian children in five European countries
25,716 books for Ukrainian refugee children have been published in Norway, Sweden, Lithuania, Poland and Ireland.