Navigation and useful materials
TOP NEWS: Russia dropped a bomb on the Drama Theater in Mariupol, where people were hiding from the shelling. Russian troops killed people in Chernihiv who were staying in line for bread. Russia continues to detonate munitions near the Zaporizhzhya nuclear power plant. Russia continues to shell Ukraine, including Kyiv and Luhansk Oblast. The Russian Federation is excluded from the Council of Europe.
PHOTO OF THE DAY: Russian bomb hit a theatre where civilians were sheltering in Mariupol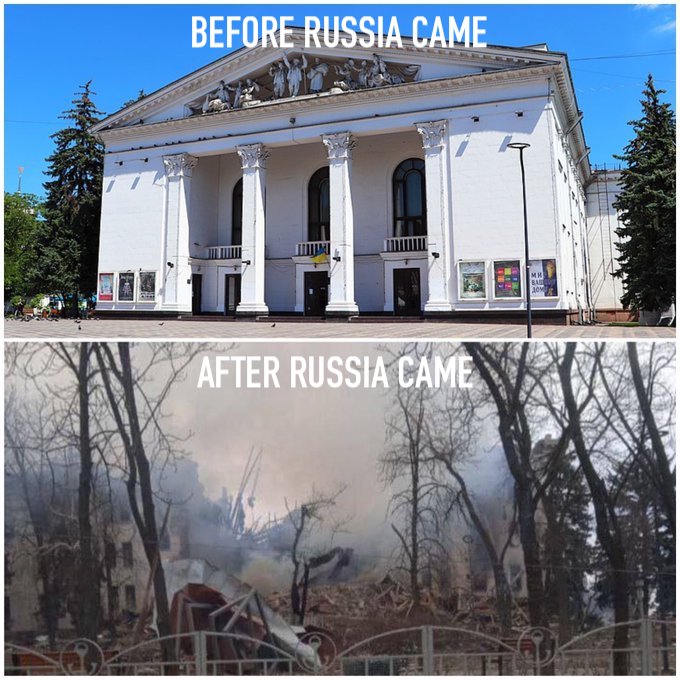 On March 16, a Russian plane dropped a bomb on the Drama Theater in Mariupol. About 1,000 locals, including children, were hiding there from Russia's shelling.
Russians knew there were civilians in the theater. Because there was a giant white inscription on the ground that said "CHILDREN" just near the theater.
MAIN NEWS
Russian "nuclear blackmail"
The occupiers continue to detonate shells and mines near the Zaporizhzhya nuclear power plant. There are about 50 military vehicles, many explosives and weapons near the plant.
The situation at the Zaporizhzhia NPP remains threatening.
Russian terrorists tried to seize South Ukraine Nuclear Power Plant. Ukrainian defenders had to blow up two bridges to prevent this from happening.
The staff of the Chernobyl NPP has been taking care of the safety of the station for 21 days in inhumane conditions. People ensure the nuclear and radiation safety of all systems of the plant. 103 specialists take care of the plant's safety.
After fall of enemy missile in Kyiv, residential building is on fire
30 people were evacuated from the building, 3 of them were injured. One person was killed.
Russian troops kidnapped volunteers in Bucha
Russian troops occupied the administrative building of the Bucha City Council and captured employees and volunteers.
Later Russians released the hostages taken in Bucha.
The mayor of Melitopol has been released
Melitopol Mayor Ivan Fedorov has been released. He has been in Russian captivity since March 11. Ukrainian authorities have exchanged the mayor for 9 Russian soldiers.
Currently, the mayor of Dniprorudne (Zaporizhzhya Oblast) Yevhen Matveev is also a prisoner of the Russian forces.
Russian troops killed people in Chernihiv
Russian soldiers committed another atrocious crime and ruthlessly killed ten innocent people in Chernihiv who were staying in line for bread.
Russian troops shelled Rubizhne, Popasna, and Severodonetsk all night
At least 27 residential buildings were on fire in Rubizhne. At least five buildings were on fire in Popasna, and one buinding in Severodonetsk.
In Vinnytsia, Russians shelled a TV tower
Russian troops shelled the TV tower in Vinnytsia. So broadcasting is temporarily down.
In Berdychiv, aggressor's troops shelled a residential area
One of the city's residential areas suffered the most from a Russian rocket. Two people were injured and several buildings were damaged.
Russia took as a hostage medical battalion commander Yulia Paevska
Volunteer and paramedic Yulia "Taira" Paevska was taken as hostage by the occupiers together with her driver in Mariupol.
Putin's troops have already killed 97 Ukrainian children
The Russian Federation is excluded from the Council of Europe
Ukraine gained a complete victory in its case against Russia at the International Court of Justice