TOP NEWS: Russia shelled women and children in Kyiv Region during the evacuation, enemy troops fired on an oncology hospital in Mykolaiv, Russia bombed at the Yavoriv International Peacekeeping and Security Center near Lviv, the occupants are preparing a "referendum" and a "pseudo-republic" in Kherson, and the hero city continues to protest.
PHOTO OF THE DAY: The hero city of Kherson again went to a protest against the occupiers
People went on a peaceful protest in the central square of Kherson.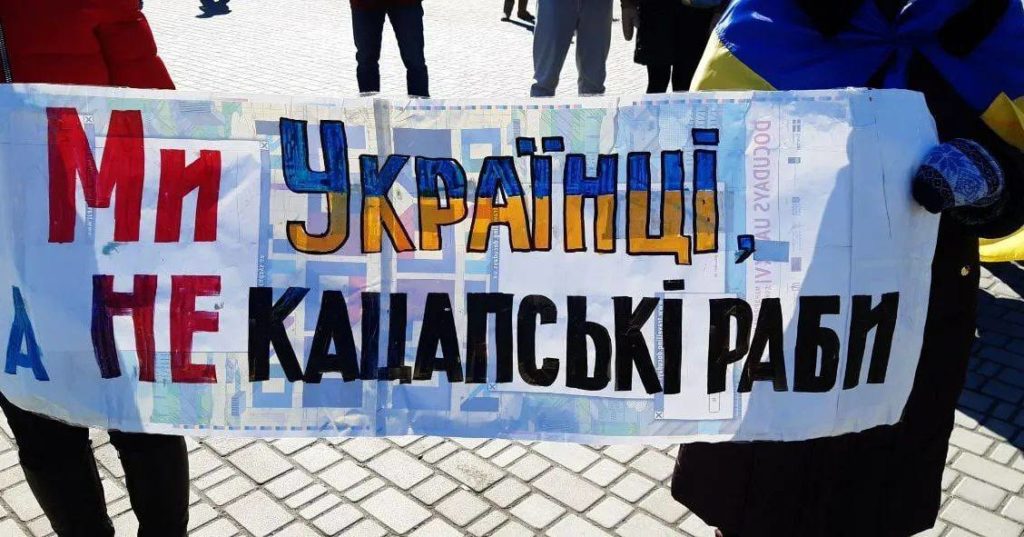 MAIN NEWS
Russian occupiers fired on a column of civilians, consisting exclusively of women and children
7 people, including one child, died.
Russian invaders fired at an oncology hospital in Mykolaiv
Russia chaotically fired at Mykolaiv. An oncology hospital and an emergency medical station were shelled as well.
Russian tank crushed a car with a child inside
As a result of an inhumane crime in Zaporizhzhia region, two men and a boy died in the burning car.
Russia plans to hold a "referendum" in the Kherson region
Russia plans to declare another pseudo-republic, following the example of the so-called "LPR" and "DPR".
An emergency meeting of the Regional Council was held in Kherson, where the deputies adopted a resolution that "Kherson region is Ukraine" and there will be no pseudo-republic in the region.
Eight Russian missiles fell on the Yavoriv International Peacekeeping and Security Center near Lviv
Russian occupiers fired rockets at the Yavoriv International Peacekeeping and Security Center.
67 civilians killed by Russian occupiers were buried in a mass grave in Bucha city
Some victims have not even been identified.
Residents of Melitopol protested against the abduction of the mayor
People in Melitopol have taken the streets demanding that Russian invaders release the abducted mayor Ivan Fedorov. During the rally, the occupiers have reportedly kidnapped local activist Olha Haisumova.
The Russians fired on Severodonetsk, Rubizhne, Popasna, Lysychansk
In Lysychansk, a gas pipeline and several houses were damaged. In Severodonetsk, four houses were on fire.
In Popasna, six houses were destroyed, and a gas pipeline was damaged in the city. The number of victims is being clarified. The Russians used phosphorus munitions.
The UN has confirmed Russia's use of cluster bombs against Ukrainian towns and villages
The use of cluster munitions in human settlements is incompatible with the principles of international humanitarian law governing hostilities.
11 civilians from Rosatom arrived at Zaporizhzhya NPP
According to them, they were sent to assess nuclear and radiation safety after the shelling and seizure of the station, as well as to provide assistance with repairs.
Ukraine saves its people
People from Bucha and Hostomel were successfully evacuated. In particular, more than 30 elderly people were evacuated from Bucha, most of whom cannot move on their own.
About 2,000 people were evacuated from Nemishayevo and Mykulychi in the Kyiv region.
About 200 people were evacuated from Vugledar and Volnovakha district.
The Ukrainian authorities made another attempt to deliver humanitarian aid and evacuate people from Mariupol.
Also, 79 evacuation buses and 2 cars with humanitarian aid were sent to Sumy.
Losses of the enemy
In the Sumy region, Territorial Defense soldiers stopped three enemy tanks.
Ukraine shot down another Su-34 plane of the occupants.
The Ukrainians destroyed the Russian self-propelled multiple rocket launcher system BM-27 Uragan with Bayraktar.
Two Russian Ka-52 helicopters were shot down over Skadovsk.
Defenders shot down a Russian fighter jet in the Izyum district of Kharkiv region.