TOP NEWS: terrorist bombing of a children's hospital and maternity hospital in Mariupol, evacuation of Ukrainians, imprisonment of 400 Ukrainians in Kherson due to their resistence, danger of radiation leak in Chornobyl.
PHOTO OF THE DAY: The terrorist bombing of a children's hospital and maternity hospital in Mariupol by Russia
Russia committed an inhumane act of terrorism – an air strike on the maternity hospital and children's hospitan. Women and children were trapped.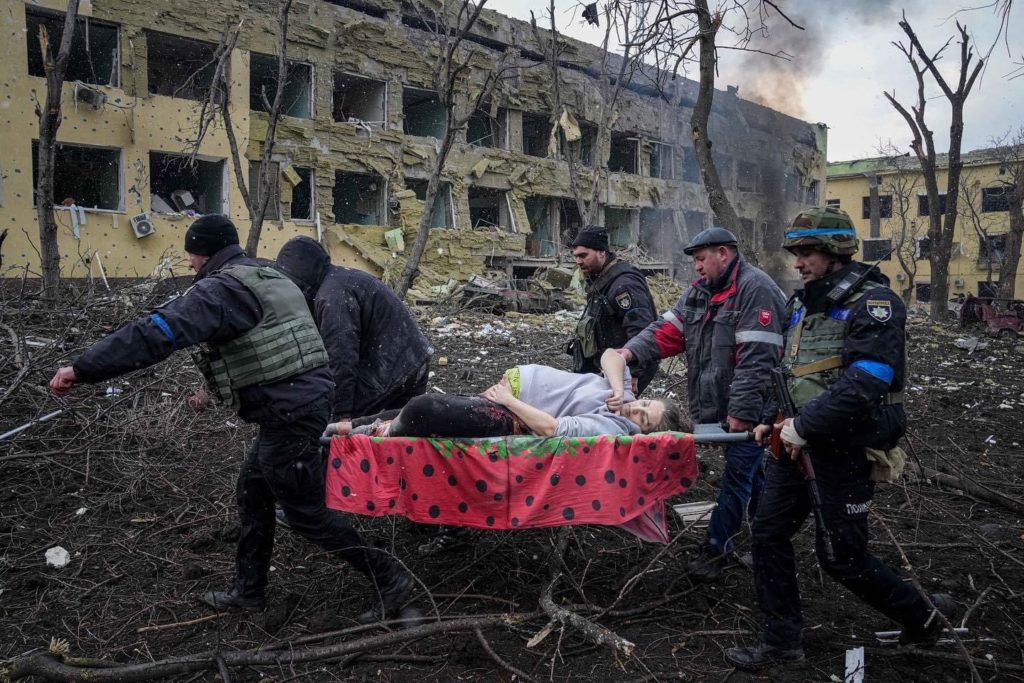 VIDEO OF THE DAY: As a result of the Russian attack, the medical facility building is entirely destroyed in Mariupol
MAIN NEWS
In Mariupol 17 people being injured, three dead, including one child
The terrorist bombing of a children's hospital in Mariupol by Russian aircraft resulted in 17 people being injured (children, women, doctors), three dead, including one child.
Consequences of the Russian airstrike on a maternity house and a hospital in Mariupol
​​More than 1,170 people died in Mariupol during the two weeks of the Russian war
Mariupol is under constant attacks from Russia, there is a genocide of Ukrainians. Constant shelling and deliberate destruction. People have no water, heat, electricity, and gas.
Russia continues blocking Mariupol
Russia holds hostage over 400.000 people in Mariupol, blocks humanitarian aid and evacuation. Almost 3.000 newborn babies lack medicine and food.
Ukraine evacuated about 40,000 citizens
Six humanitarian corridors were agreed to evacuate from the hotspots on March 9: Energodar – Zaporizhia; Sumy – Poltava; Mariupol – Zaporizhia; Volnovakha – Pokrovsk; Izyum – Lozova; Vorzel, Bucha, Borodyanka, Irpin, Gostomel – Kyiv.
However, Russian troops shelled vehicles and people during evacuation. Evacuations took place from cities in the Kyiv region, from Sumy and Energodar.
During the evacuation from Vorzel, Borodyanka, Bucha, Irpin, and Gostomel, the aggressor's troops disrupted the evacuation. Vehicles for evacuation were blocked. And during the evacuation of people from Demydov in the Kyiv region, the enemy opened fire. As a result, one police officer was killed and two others were seriously injured.
More than 3,000 people were evacuated from Irpin and Vorzel on March 9.
The evacuation of people from Izyum in the Kharkiv region was disrupted due to constant shelling by the Russian occupiers. Only 250 people were evacuated.
People from Energodar were evacuated. An evacuation convoy (12 buses and 100 cars) from the cities of Energodar, Dniprorudne and Vasylivka arrived in Zaporizhia.
At the same time, in the Chernihiv region, the aggressor's military shelled Chernihiv residents who were trying to leave the city. As a result, several people were killed, including children.
A 20-year-old girl in the Kyiv region died from Russian bombs
Russian aircraft dropped bombs on the village of Piskivka in the Bucha district of Kyiv region. The bombs destroyed nine homes. A 20-year-old girl died.
Two women and two children died in the Kharkiv region as a result of the shelling
As a result of another shelling of the village of Slobozhanske, Izyum district, four people died. The enemy shell hit a private house. Two women and two children died as a result of the destruction of the building. One five-year-old girl survived.
Rescuers neutralized 14 bombs dropped by Russia on residential areas of Mykolaiv
Among them are three high-explosive bombs, cluster munitions, artillery shells, and mortar mines. These are bombs which Russia drops on inhabited areas, on civilians of Mykolaiv.
​​In Kherson, the Russian guard illegally imprisoned more than 400 Ukrainians for resisting
Due to the resistance of Kherson residents, Russian guard units were introduced into the Kherson region. More than 400 Ukrainian citizens were illegally imprisoned.
Danger of radiation leak in Chornobyl
The only electrical grid supplying the Chornobyl nuclear power plant and all its nuclear facilities occupied by the Russian army is damaged. Chornobyl NPP has lost all electric supply.
Due to the actions of the Russian occupiers, Chornobyl Nuclear Power Plant has been entirely disconnected from the power grid, NPC Ukrenegro confirms. The military actions are in progress, so there is no way to restore the lines. Slavutich city is also out of power supply.
There is a danger of a radiation leak at the Chornobyl nuclear power station after electricity was cut off to the plant.