TOP NEWS: evacuation of citizens from Sumy and Irpin, Russia's blockade of Mariupol, shelling of Izyum and Malyn, and the United States and Great Britain will ban Russian oil and gas.
PHOTO OF THE DAY: A little girl died due to the Russian blockade of Mariupol
Russia cynically deprived half a million Mariupol residents of water, electricity, heat and communications. Blocked all exits and entrances to the city. The city is trapped and on the verge of a humanitarian catastrophe.
On Tuesday, March 8, the body of 6-year-old Tanya was pulled from the ruins of the building. Russia killed not only Tanya but also her mother.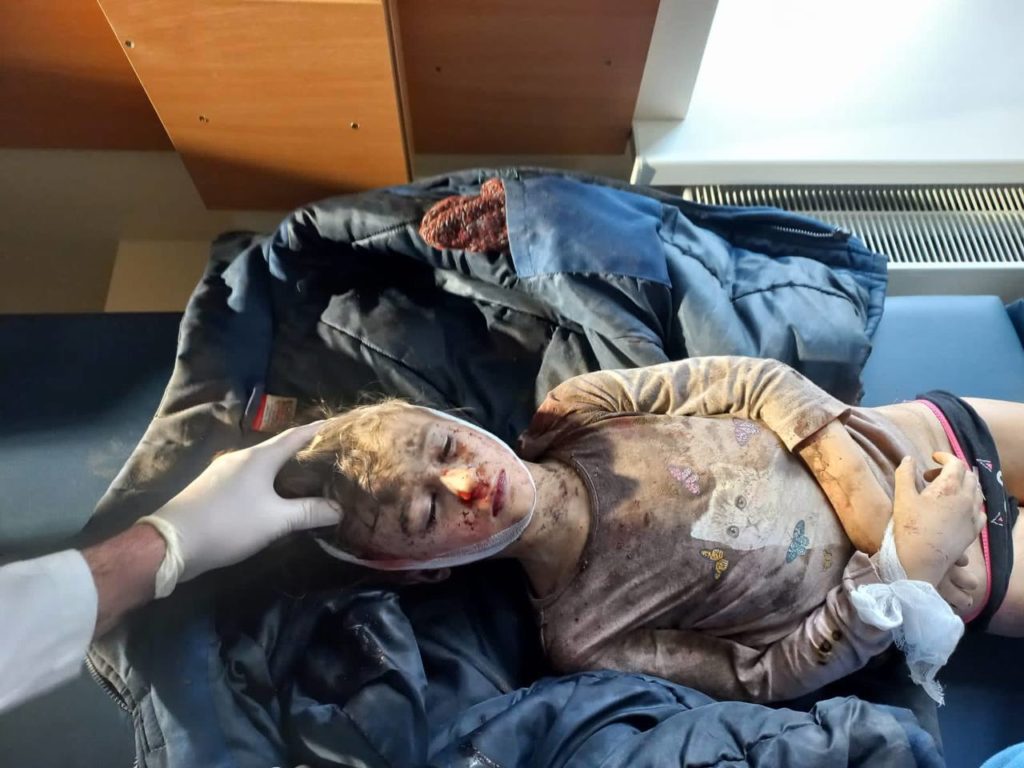 VIDEO OF THE DAY: A Ukrainian boy without parents crosses the border with Poland
MAIN NEWS
Evacuation of Ukrainians from hot spots
On Tuesday, March 8, the first stage of civilian evacuation from Sumy began.
During the day, two evacuation columns (22 buses and 39 buses) arrived from Sumy to Poltava region. These are women, children, foreign students, and the elderly.
About 20 tons of humanitarian aid – food and medicine – were also sent to Sumy residents.
Ukrainian authorities are also trying to evacuate people from Mariupol. Russia holds 300k civilians hostage in Mariupol and prevents humanitarian evacuation despite agreements. Russian troops disrupt both the evacuation and humanitarian convoys by shelling.
The evacuation of Irpin citizens to Kyiv is also underway. Almost 3,000 people were helped.
Rescuers are helping to evacuate the elderly from a shelter in Irpin.
Russia destroyed a hospital in the city of Izyum in Kharkiv region
The Russian occupants have demolished another medical institution, this time in the town of Izyum. It is unknown at this time how many people were injured.
In general, the situation in the city of Izyum and Kharkiv region remains difficult. Critical areas are also Balaklia and Liptsy. It is currently not possible to bring the already prepared humanitarian cargo there.
In addition, in the village of Dinets in the Kharkiv region, a Russian shell hit a residential building. Two people died, including a seven-year-old child.
The occupiers destroyed seven houses in the Zhytomyr region, children died
Russia shelled the town of Malyn in the Zhytomyr region, destroying seven private buildings. Five people died, including two one-year-old children.
In Zhytomyr, Russia destroyed a dormitory with a missile
Information about victims is being clarified. The occupiers also bombed the Zhytomyr plant. One person is currently injured.
Russia dropped 500-kilogram bombs on residential buildings in Sumy
Last night Russian pilots committed another crime against humanity in Sumy. As a result 18 civilian deaths have already been confirmed, including two children.
Russian troops killed three educators of an orphanage near Mykolaiv
Russia shelled the minibus with educators of an orphanage. According to preliminary information, three educators died. Two others were injured.
In Sumy, the Russian occupiers killed the family of 15-year-old Ukrainian sambo champion
Ukrainian sambo champion Artem Pryimenko died in Sumy during Russian shelling of the residential area. He was only 15 years old. Along with Artem, his father, mother, grandmother and two younger brothers died.
Protests against Russia continue in the Kherson region
In Kherson and the Kherson region on March 8, people protested against Russian invasion. Protests took place in the cities of Kherson, Beryslav, Oleshky and Nizhny Sirogozy.
Foreign sniper to fight for Ukraine
A sniper from the Canadian Armed Forces called "Vali" will join the Ukrainians in the fight against the Russian occupiers. He fought the war with ISIS terrorists in Iraq and Afghanistan from 2009 to 2011.
Russian losses
Ukrainian defenders have already destroyed more than 1,000 armored enemy vehicles, more than 300 tanks, 80 helicopters, about 50 planes and about 12,000 Russian soldiers.
The Ukrainian Army showed the destroyed Russian equipment and tanks.
The West will ban Russian oil and gas
US President Joe Biden has confirmed that the United States will completely ban oil and gas imports from Russia.
Britain, following the United States, is abandoning Russian gas and oil.