On February 13–19, Russia is going to close large areas of the Black and Azov Seas under the pretext of conducting military exercises with shootings.
The area of manoeuvres makes it virtually impossible for Ukraine to navigate both seas. This is an unprecedented step by Moscow.
Such actions are of particular concern, especially given the tensions on the land borders with Russia and Belarus.
Ukraine expects an international response to provocative actions.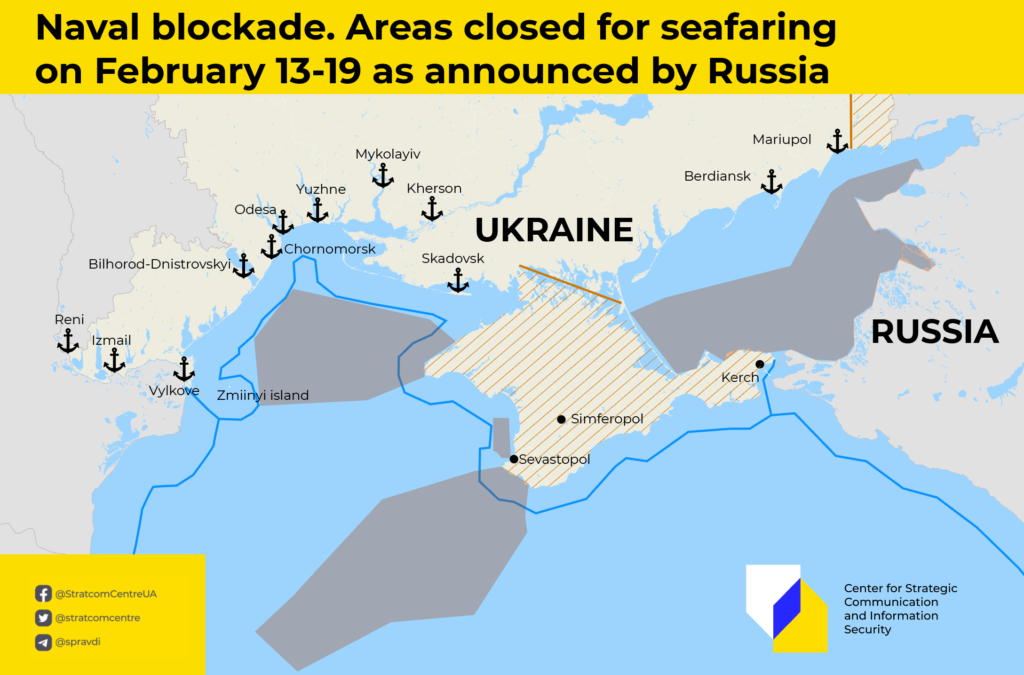 For reference:
Russia's armed aggression in 2014 dramatically worsened seafaring safety.
The occupation of Crimea led to the establishment of Moscow's monopoly control over the Kerch-Yenikale Canal — the only sea connection of Azov ports with the outside world.
The construction of the Kerch (Crimean) bridge had an additional negative impact on the situation.
Since 2018, Russia has been systematically obstructing free navigation by closing off sea areas for training, detaining ships unjustifiably, and militarizing and creating dangerous incidents at sea.
Such actions primarily affect merchant shipping, and Ukrainian seaports suffer losses.
By resorting to an unannounced blockade, Russia is violating international maritime law.
Statement of the Ministry of Foreign Affairs of Ukraine: https://bit.ly/34MS1RS
Statement of the Command of the Ukrainian Navy: https://bit.ly/3rEoRxm