To deprive Ukrainian athletes of their uniform where Crimea is Ukrainian, Russia suddenly remembered that "sport is beyond politics." This is in the country that has twice used the Olympics to cover up military aggression against sovereign neighboring states.
The country whose secret service agents tampered with urine tests in laboratories to conceal its athletes' use of doping. The country with probably the largest number of professional athletes in parliament. Where the president is not only "the best hockey player", but also "the king of all sports". And at his election rally, athletes with "Putin Team" signs stand behind him as a makeweight. Apparently, there is no other country in the world where sports are so tightly intertwined with politics.
We have collected the top 6 examples convincingly proving the connection between sports and politics in Russia.
1. Olympic war
Some Western outlets wrote in 2018 before the Winter Olympics that "this time Putin may not start a war." Because it has already become a Russian tradition to time military aggression against sovereign neighboring states for the Olympic Games. First this happened in August 2008, when Russia attacked Georgia. "Much of the world was glued to their televisions, but they were watching the Beijing Olympics, not the unfolding war in Georgia," a Modern War Institute study wrote. According to it, the Russian-Georgian war was a "training exercise" before what happened in 2014.
Serhiy Haiduk, Vice Admiral, Commander of the Ukrainian Navy in 2014-2016, stated that the Sochi Olympics served as a cover for Russia to move additional troops to Crimea and then seize the peninsula. According to him, it was impossible to conduct a forced ferry crossing and deliver Russian military groups to Crimea across the Kerch Strait. Haiduk noted that "it would have been very open." Therefore, there was a legend — rotation of the group that provided security for the Olympic Games in Sochi.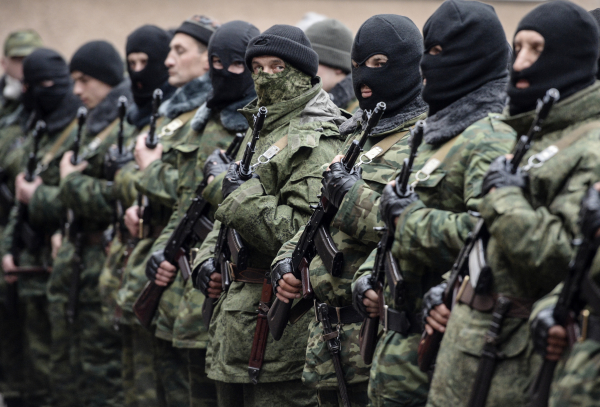 2. Substitution of urine through "mouse hole"
The World Anti-Doping Agency's investigation into Russian sports concluded that Russia conducted a huge state-sponsored doping program. After their poor performance at the 2010 Winter Olympics, the Russians developed a detailed secret plan to ensure stellar performance at the 2014 Games in Sochi. Here's how it worked: in the middle of the night, Russian agents substituted samples of athletes' "bad" urine for clean ones, passing them through a "mouse hole" drilled into an anti-doping lab wall. When the urine was tested the next day, there were no signs of doping.
"This tradition of using sports as a tool of hybrid warfare dates back to Soviet times. Nothing has changed: we need victory at all cost to create the image of an invincible nation ruled by a wise leader," Andrei Kolesnikov wrote for The Moscow Times.
3. Hybrid hooligans
In the summer of 2016, a group of Russians caused an affray on the streets of Marseilles, which immediately overshadowed all football news. As a result of their attack on English fans on the eve of the match between the Russian and the British teams, at least 100 people were injured, 30 were hospitalized, and the lives of five were in danger. Moreover, an organized criminal group of trained men attacked not fan groups, but ordinary fans, with often four of them beating one lying down. The British Football Fans Federation (FSF) was outraged by media reports of "clashes" between fans. "As if there were two groups determined to control each other. That wasn't what happened here," they wrote in their statement.
In 2017, BBC showed a documentary called "Russia's Hooligan Army". There was testimony from Vasily "Killer" Stepanov that the soccer fans who caused an affray in Marseille, France, were "special forces that Putin sent to conquer Europe."
Igor Lebedev, vice-speaker of the Russian Duma from the Liberal Democratic Party and member of the executive committee of the Russian Football Union, said that soccer hooligans "defended the honor of the country." "Well done, keep it up," he said and added that Russian Sports Minister Vitaly Mutko would also have gone to fight with the British but for his official status.
Oleksandr Shprygin, a former football hooligan and neo-Nazi, and head of the All-Russian Association of Fans at the time of the 2016 European Championships, admitted that at least some of the rioters had arrived on an official flight with a delegation he headed. And among them were champions in various martial arts. Sprygin boasted that the British had to fight "with a perfected machine that swept them away like an avalanche."
Later, Russian Sports Minister Vitaly Mutko, after Russia was threatened with being stripped of its right to host the 2018 FIFA World Cup, directly accused Shprygin of both organizing riots in Marseilles and creating "unnecessary propaganda noise." But first, when Russian fans attacked the English stand — Mutko supported the attackers with emotional obscene gestures.
And the Russian president himself, despite calling the brawl "outrageous", added with undisguised pleasure that "two hundred of our fans managed to get better of several thousand Englishmen," which brought him applause.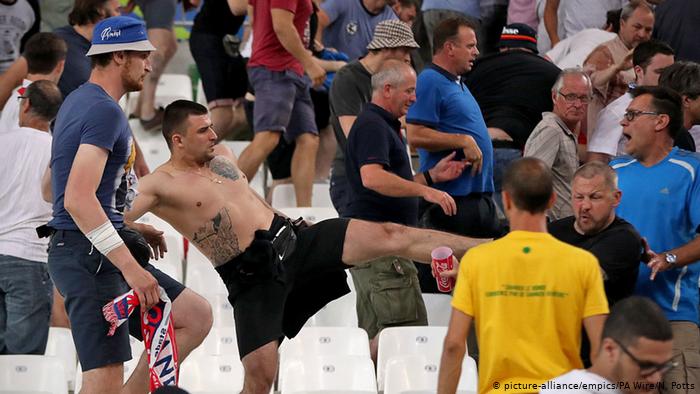 Russian hooligans see themselves as "Kremlin foot soldiers", Reuters reported. "Take my word for it. This is purely our symbolic reply to your sanctions and interference in our internal affairs in Ukraine," Reuters quoted a Russian from Rostov-on-Don.
"The Kremlin's recruitment of skinheads, biker gangs, soccer hooligans, and street fighters does not usually appear geared toward the armed overthrow of democratic governments. Far more often, the recruitment, indoctrination, and manipulation of fringe right-wing groups seems aimed at sowing political chaos in Western democracies and subverting or weakening democratic institutions. But occasionally, as in Ukraine, these proxies can operate directly in support of Kremlin operations," The Atlantic reported.
4. "If not for the political coup…"
In the summer of 2013, the infamous Kharkiv organization Oplot held a sporting event called the USSR Championship in Fighting without Rules, the political basis of which is obvious from the name itself. In 2014, "Oplot" became a combat unit that fought against Ukrainians on the side of Russia.
Interestingly, also in the summer of 2013, the Kremlin with the help of Gazprom planned to create something similar, only on a larger scale — a "hybrid" United Championship, repeatedly inviting Ukrainian football clubs to participate in it. Valeriy Gazzaev was elected General Director of the Organizing Committee of the United Football League. Despite the fact that the whole initiative came exclusively from Russia, while Ukraine greeted it coolly, Gazzaev claimed that supposedly all the leading Ukrainian clubs were ready to play in it.
The Continental Hockey League created and funded by Gazprom in 2008 became a test bullet. Teams from Belarus, Latvia, Kazakhstan, and Donetsk "Donbas" participated in it. The goal was obvious — to create an illusion of a single sports space, in which representatives of the former superpower compete with each other again, but feel they belong to the same country.
"It is a pity that the joint championship did not take place. We had every detail worked out. But for the political coup in Ukraine, this championship would have taken place," Gazzaev complained in 2019.
5. "Circus on ice"
Putin has been participating in the Night Hockey League gala matches since they started in 2012. Then he got only two goals and one assist. Since then, his performance has steadily increased. Five, six, eight, and finally ten goals. No matter what team he played for, no matter who the rival was, his team always won. Perhaps only Lukashenko can match him, but "they always play in the same team".
Russian opposition leader Alexei Navalny once called the whole hockey epic "circus on ice". "It's like Brezhnev, who was in power for 18 years, and went crazy over awards… Putin has hockey victories instead of orders. Sycophants are always there for him. The rival team's defender will change his mind at the right moment, and the goaltender will simply give up a goal. Putin seriously believes that the whole country is squealing with happiness, seeing how clever he is, how he scored ten goals. And the head of Turkmenistan is sure that the whole world is delighted with the way he raises a golden barbell. By the way, he also plays hockey. And in the last match he scored as many as 12 goals."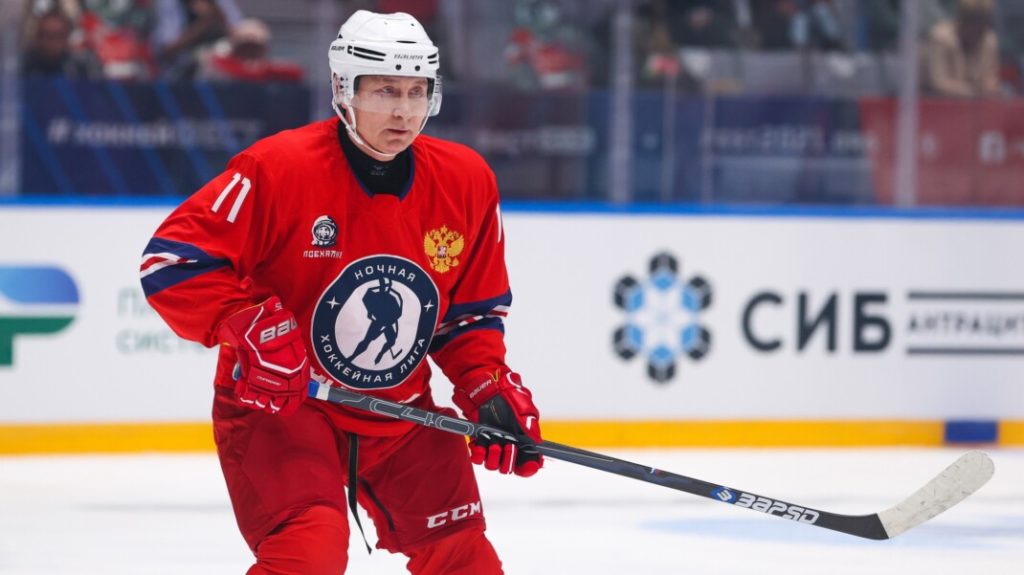 6. Putin Team
The ruling presidential party United Russia loves athletes. There are as many as 16 of them in its parliamentary faction. "Athletes are easy to manage. No matter what you tell them, they will do anything. They are absolutely loyal and ready to obey, at the same time there is always someone at hand who can defend another idiotic law on TV, someone who can comment on it with the help of the usual sports language," said Elmar Murtazaev, CEO at Forbes, Russia.
Rhythmic gymnast Alina Kabaeva had the most dizzying career — she was 17 years old when she received an offer to join the party's political council. Almost simultaneously with the offer to host the TV show "Harem". As of 2019, the value of real estate of gymnast Kabayeva's family amounted to more than one billion rubles. As a public and political figure she is notable for signing a letter approving Khodorkovsky's arrest; promoting, in particular, the "Dima Yakovlev law", which forbade US citizens to adopt Russian children; building a sports palace in Russia-occupied Tskhinvali, Georgia.
Boxer Nikolai Valuev, also a member of United Russia, flew to Crimea in February 2014, and then he claimed that a "coup d'etat" allegedly had taken place in Ukraine and that "there were no Russian special forces" in Crimea.
In 2020, the number of athletes (or people associated with sports) in the State Duma was almost seven percent of the total number of deputies (except one, all representing the ruling party). The largest number of ex-athletes participated in drafting the bill "On measures in response to hostile actions of the United States and other foreign countries."
In the 2018 election, hockey player Aleksandr Ovechkin created the Putin Team movement to support Putin's candidacy even before he announced his participation in the election. The movement later became part of Putin's election campaign.
It is obvious that not only Russian sport is not beyond politics, but also it is on the payroll of the regime, being in direct dependence on the Kremlin.