TOP NEWS: Russian air strikes on Lutsk, Ivano-Frankivsk and the Dnipro, the shelling of Mykolaiv and Nizhyn, and the evacuation of tens of thousands of Ukrainians from cities under attack.
PHOTO OF THE DAY: Russia attacked the city of Dnipro, one person killed
Russian missiles and air strikes targeted the city of Dnipro. One person was killed. Russia targeted a kindergarten, an apartment building and a shoe factory.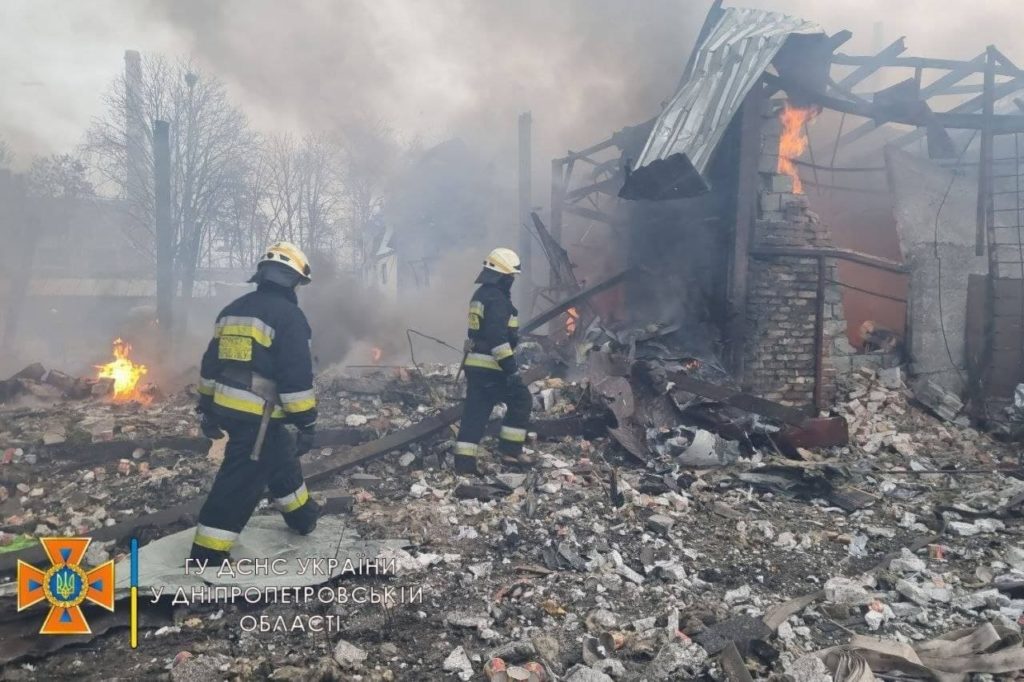 MAIN NEWS
Russia also launched air strikes on Lutsk and Ivano-Frankivsk
In Ivano-Frankivsk, explosions took place near the airport.
In Lutsk, the occupiers struck airport. One person died.
Russia continues to terrorize Mariupol. The situation is critical
Humanitarian convoys are not allowed into the city for six days due to the occupiers' actions.
Russia has blocked about 400,000 citizens in the city. Enemy cynically keeps shelling residential areas with prohibited weapons. Russian aircraft kill civilians every half of an hour.
On March 10, Russian troops struck again at Mariupol. One person was killed.
During the Russian war in Ukraine, 71 children were killed and more than 100 were injured
Since the beginning of the Russian invasion in Ukraine, 71 children have been killed and more than 100 children have been injured.
In Mykolaiv the Russian shelled the kindergarten
In Mykolaiv, Russia shelled the kindergarten and the residential area.
The enemy targeted Nizhyn
Russia targeted the city of Nizhyn. Two people were killed and 8 were wounded.
Russia has destroyed more than $100 billion in infrastructure in Ukraine
Also, the war caused a complete shutdown of about 50% of Ukrainian enterprises, and the other half are working on the edge.
Evacuation of Ukrainians: Sumy, Izyum, Irpin, Bucha, Vorzel, Hostomel
In two days Ukrainian authorities evacuated more than 60,000 people from the cities of Sumy, Trostyanets, and Krasnopillya. Women, children, people with limited mobility, and the elderly were evacuated.
About 3,000 people managed to leave the city of Izyum. Also, more than 100 tons of humanitarian aid arrived in Izyum: medicines, water and so on.
52 children and 55 mothers were evacuated from maternity hospital and orphanage in Vorzel.
More than 20,000 people were evacuated from Bucha, Irpen, Gostomel, Vorzel and other cities in the Kyiv region.
More than 100 tons of aid were delivered to Energodar.
The evacuation of Volnovakha and Mariupol has not yet succeeded.
Ukrainian military defeat tank regiment of Russian troops, eliminate commander Zakharov in Brovarsky district
The Ukrainian military defeated a tank regiment of Russian troops and eliminated the commander, Colonel A. Zakharov in Brovarsky district.
Ukrainian defenders destroy enemy planes, tanks and seize equipment
On March 10, the Ukrainian military shot down a Russian Su-25 aircraft.
Near Borodyanka in the Kyiv region, Ukrainian artillery destroyed several enemy tanks.
Russia continues to supply lethal weapons "free of charge" to units of the Armed Forces of Ukraine. On March 10, a battle took place in the Chernihiv region with the overwhelming forces of the enemy. As a result, Ukrainian defenders captured 10 tanks, an anti-aircraft missile system and an armored evacuation vehicle.